We already knew that Sony is planning to film a small selection of matches in 4K Ultra HD at the 2014 FIFA World Cup in Brazil, and now the BBC is getting in on the act too. It's not going to be filming any matches itself, but it will be partnering with the Japanese company to stream the live 4K footage back to the UK.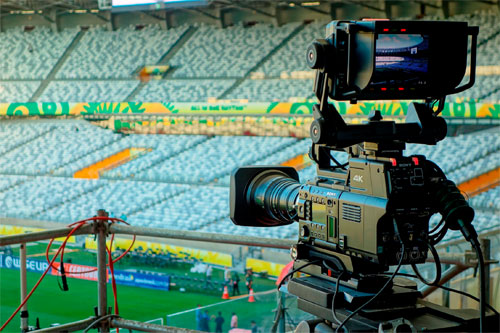 Sounds awesome, right? Except for the fact that only a handful of employees at the Beeb will actually get to watch the games. Unfortunately the trials won't be broadcast to the general public – instead they'll be closed, with the BBC using the exercise as a kind of dry run to better understand how to actually broadcast 4K footage over the air. On the plus side, the BBC says the exercise should help pave the way for more widespread broadcasting of 4K content in the future.
The three games, which include the final and one quarter-final, will be one of the first ever sporting events streamed in 4K.
The BBC says it's planning to work alongside Arqiva to beam the live footage to the UK via satellite. From there, the BBC will decode and distribute the footage to a number of select audiences within the organisation. It says it plans to use both regular broadcast and 'super-fast' broadband in the experiment. The footage will be distributed using the new HEVC codec over DTT and IP networks.
These trials are important because 4K streaming technology is still in its infancy, and one of the biggest difficulties is making it all compatible with existing infrastructure. The general consensus is that broadband speeds of at least 20Mbps are needed to watch a 4K stream without any annoying glitches.
Matthew Postgate from the BBC's Research and Development team said "The trials will prove hugely valuable in furthering our understanding of UHD technology, and potential distribution models for the future."
Many people in the television industry are betting on 4K being the next big thing. TV manufacturers especially, are hopeful that consumers will love the new format enough to want to upgrade to a newer, flashier set. That will only happen when people have enough native 4K content to watch of course, but at present there's very little around. With these trials, it looks like the BBC is at least doing its bit to try and change that.
Source: BBC