Timing its arrival right in the midst of this year's summer of sports, the BBC Sport app has been launched this week on the latest Samsung Smart TV models. The Korean manufacturer is the latest in a line (following Panasonic, Sony and Virgin Media) to add the application to its connected platform.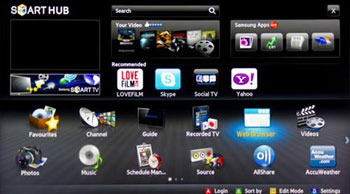 BBC Sport app arrives on 2012 Samsung Smart TVs
Owners of Samsung's 2012 range of internet-connected HDTV displays will be able to use the BBC Sport app – which is accessible through the Smart Hub portal – to enjoy the Beeb's interactive coverage of some of the most significant sporting events taking place in the UK this year, including the Wimbledon tennis championships, the British Grand Prix F1 race, and of course the London 2012 Olympics.
The app will provide alternative ways for viewers to follow Wimbledon, ranging from multi-match coverage and audio commentary options to statistics and highlight footage. Formula 1 fans will be able to watch all the practice and qualifying sessions of the British Grand Prix, as well as access additional interactive features like on-board cameras and a "driver tracker" which pinpoints the location of each car on the circuit. As for the Olympic Games, coverage of a maximum of 24 sporting events simultaneously amounting to 2,500 hours worth of content will be delivered by the BBC Sport application.
Samsung UK and Ireland's vice president of consumer electronics Robert King said that the company is pleased to be able to offer a wide variety of sports content to its Smart TV customers. He added that the BBC Sport app will help users keep abreast of the most recent sporting action worldwide, regardless of whether they are tennis or Formula One enthusiasts, or just sports fans in general.
With the BBC Sport app joining the other major on-demand offering from the public service broadcaster (BBC iPlayer) on Samsung's Smart Hub web-connected platform, the brand's smart televisions now boast a growing portfolio of apps dedicated to sports, such as the recently released Football app and Red Bull TV.