Believing that 3D technology is the next stage of innovation in the history of television given the success of 3D movies in cinemas, BBC Worldwide will seek to invest in more 3D TV programmes for future content, an executive from the commercial arm of the UK's public broadcaster has said.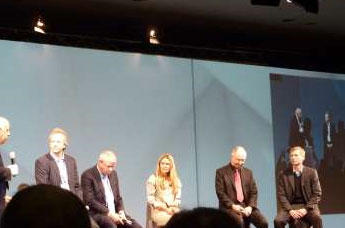 Amanda Hill, managing director of BBC Earth (the organisation's brand for worldwide natural history programming), was speaking at the Panasonic Convention 2011 in London as a guest panelist in a discussion forum on 3D content. "Innovation has always driven natural history forwards, 3D is the next stage," she said, "There's a proven business model for 3D film – TV will follow. We're investing now in future content."
When asked about how BBC Worldwide is incorporating tri-dimensional filming methods into future programming, she replied that 3D represents another way to tell a story. She went on to explain that her team members are still feeling their way and honing their skills in theatric and techniques when it comes to producing 3D material, but asserted that the learning process itself will lead to new discoveries in their efforts to deliver convincing 3-dimensional effects.
Citing the broadcaster's jump to high-definition filming as an analogy, Amanda said, "When they were told that Planet Earth had to be shot in HD, there was panic, because they had never used that technology before. But they found new behaviour because of shooting in HD."
Warning that a glut of poorly-made 3D content may precipitate the death of the format, she stressed that the quality of the 3D technology employed is paramount, and that it has to enhance the story. She revealed that her department had carried out some tests, which indicated that incorrectly overlaying the 3D images too far apart may increase the incidence of headache among viewers, again driving home the importance using proper techniques in 3D production.
BBC Worldwide is currently involved in the production of Walking With Dinosaurs 3D (budget of about £40 million) and Africa 3D (costs around £15 million) in partnership with US-based 3D specialist studio Evergreen Films.