It's been some time since we last reviewed a Blu-ray player: we were operating under the premise that most high-end BD decks perform similarly when it comes to 1080p/24 output (the most important aspect of Blu-ray playback), so why bother? But recently a fantastic device we own has been updated with a function to analyse any HDMI signal at bit level, allowing us to verify the output signal integrity of various media players, which is why we're taking baby steps to rebuild our database of BD player testing, starting with Samsung's flagship model for 2015, i.e. the BD-J7500.
Design
The Samsung BDJ7500 is an unassuming Blu-ray player made up of gloss black plastic surface with a lightweight feel, although to inject some panache to proceedings, there's an aluminium ribbon covering large chunks of the top and sides, which carries a brushed metallic grey finish and the now-ubiquitous Blu-ray logo.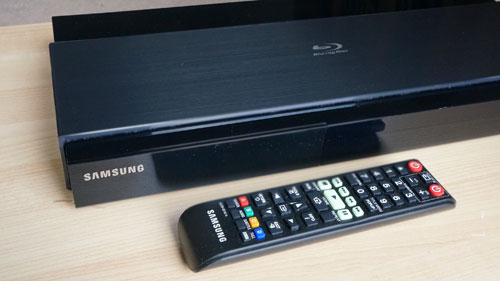 The supplied remote control is nothing to write home about, resembling the budget-looking ones bundled with the Korean manufacturer's 2014 and 2015 TVs. The power cable is affixed to the rear of the player, measuring 1.5m in length.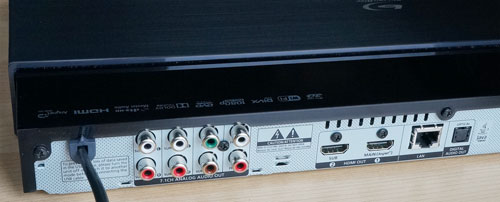 In terms of connection ports, two HDMI outputs are provided, although HDMI2 only sends out audio and not video – its purpose being to accommodate older receivers that don't support 4K or 3D signal passthrough. What this means is that you can pipe the 4K/ 3D picture from the BD-J7500's HDMI1 socket directly to your TV or projector, while sending the audio separately from HDMI2, saving you the need to upgrade your legacy receiver.
Benchmark Test Results
| | |
| --- | --- |
| Blacker than black | Passed |
| Whiter than white | Passed |
| Bit-perfect output | No |
| Source direct mode | No |
| Scaling | Good |
| Film mode deinterlacing | Passed 3:2 and 2:2 cadences |
Load Times
| | |
| --- | --- |
| Off to tray fully opened | 5 secs |
| Off to operational | 10 secs |
| The Dark Knight Blu-ray | 37 secs |
| Netflix | 18 secs |
Power Consumption
| | |
| --- | --- |
| On | 13 watts |
| Standby | <1 watt |
Performance
HDMI Signal Integrity
Armed with DVDO's AVLab TPG signal generator and a reference Blu-ray test disc containing known colour values from displaycalibrations.com, we proceeded to examine the HDMI output of the Samsung J7500.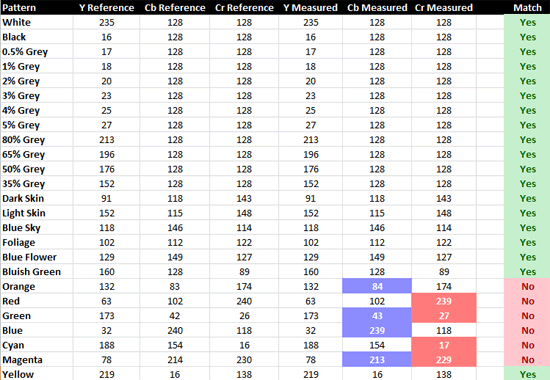 The player did very well overall, matching bit by bit for the three major groups of test patterns we measured, except for some mild errors especially at 100% saturation 100% luminance. Still, delta errors (dEs) stood at less than 3, so these minor inaccuracies won't be visible to the human eye in real-life content.
Video Processing
Of more concern is the light layer of forced DNR (digital noise reduction) that's been a feature on Samsung's non-budget Blu-ray players for some time. HDTVTest has been a very vocal opponent against undefeatable noise reduction (exhibit A: Samsung D8000; exhibit B: LG EC9300 OLED TV), so we're surprised that the company hasn't fixed this issue (tested on firmware 1002, the latest at time of publication).
To be fair, the noise reduction algorithm on the BDJ7500 wasn't aggressive and didn't cause any noticeable motion smearing – the processing retreated automatically whenever it detected lots of motion on screen. Nevertheless, on static or slow-moving scenes, we could see finely-textured film grain being scrubbed away together with fine detail. Since the processing is temporal in nature, the easiest way to observe the DNR in action is by watching a movie clip containing fine film grain (good examples include the opening black-and-white sequence in Casino Royale; or chapter 14 in Mission Impossible 4: Ghost Protocol): simply pause the Blu-ray player, and you'll see more film grain and fine detail magically reappear.
The undefeatable DNR on Samsung Blu-ray players is subtle, and not present 100% of the time, which is why most people including professional reviewers never spot it. But for video enthusiasts who are interested in watching films in the manner intended by the director without unnecessary tampering by any component in their video chain, they'd be better served by a Blu-ray player that absolutely respects signal integrity and faithfully reproduces what's on the disc, such as an OPPO or Panasonic model.
The Samsung J7500 offers 4K upscaling capabilities, but from what we've seen, there's no reason not to just send the original 1080p signal to your LG, Panasonic, Samsung or Sony ultra high-definition (UHD) television which features very good upconversion anyway.
Loading Speed
Blessed with a dual-core processor, the Samsung BD-J7500 blitzed through our concoction of load speed tests which we'll be carrying out on all our Blu-ray player reviews going forward. From standby to the disc tray fully opened by pressing the [Eject] button on the remote control took only 5 seconds, with the on-screen menu appearing and becoming operational shortly after.
To evaluate BD-J processing and disc seek times, we used a Blu-ray of The Dark Knight that went straight to the movie (to minimise any variable introduced by menu interaction). The BDJ7500 was among the fastest we've tested in this aspect, needing only 37 seconds for the opening scene to start (i.e. AFTER the initial Warner Bros logo and the spinning disc icon). Netflix app loading was equally speedy, taking only 18 seconds from remote key press to the user profile selection screen.
Conclusion
The Samsung BD-J7500 is an otherwise great Blu-ray player which is unfortunately tainted by undefeatable noise reduction. Most casual owners will probably enjoy the J7500's blazingly fast responsiveness, and never notice the backdoor processing, but videophiles who are after pristine, unblemished image reproduction from their Blu-ray discs should give the BDJ7500 a miss.