Despite their well-publicised financial hardship, Japanese TV manufacturers Panasonic and Sony are still producing class-leading HDTVs, according to readers who took part in our 2012 year-end poll. The pair's flagship televisions – the Panasonic VT50 and the Sony HX853 – were voted the best plasma and LED LCD TV respectively by participants in our annual survey.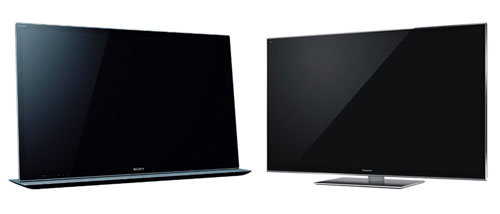 Sony HX8 & Panasonic VT50: our readers' choice of best LED TV and plasma in 2012
A web-based questionnaire was sent out to 5,868 HDTVTest newsletter subscribers who were asked to vote for what they thought are the best plasma TV and the best LED-based television this year, as well as the display technology they're most excited about seeing in 2013. The poll ran from the beginning of December for three weeks, and the submitted responses were then analysed to determine which TVs are deemed 2012's best by the public.
Best Plasma TV 2012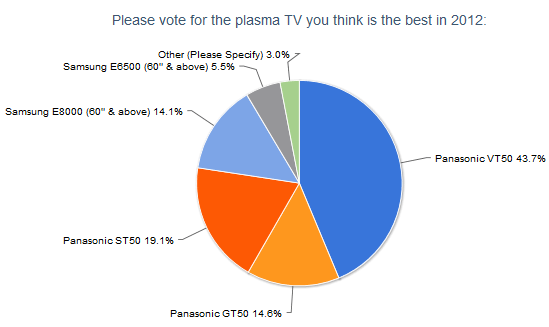 Panasonic absolutely decimated the competition in the plasma display panel (PDP) category, which is probably not as impressive an achievement as it sounds, given that there remain only two other active players – South Korean conglomerates Samsung and LG Electronics – in this sector. As expected, the Japanese brand's top-end VT50 series came top, securing a convincing 43.7% of votes. Interestingly, despite being the step-down (and cheaper) model, the Panasonic ST50 beat the GT50 to second place, highlighting the former's excellent value-for-money in the public's eyes.
In fourth and fifth spots are a pair of Samsung plasma televisions: the top-end E8000 and the midrange E6500 series. To be honest, we're somewhat surprised that they're so comprehensively outranked by Panasonic's offerings, because from the tests we've carried out, this year's 60-inch-plus Samsung plasmas are at the very least a match for the Panasonics. Sure, blacks on the Samsungs are a shade brighter, but they more than make up for it with their astonishing absence of image retention, not to mention proper full HD 3D resolution.
Best LED TV 2012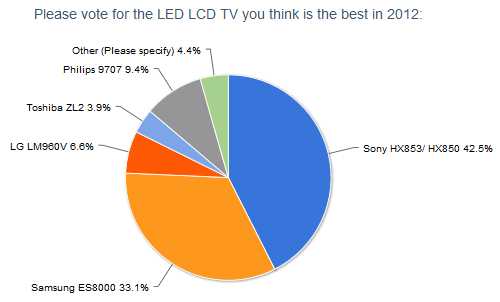 Having won critical acclaim in this year's major tech industry awards, Sony's HX853 series led the way in this category with 42.5% of votes. The company's Bravia HX950 range, powered by full-array local-dimming LED backlight (and in theory one rung higher than the HX8), was not released in the UK, which is why it did not feature prominently in our poll. Samsung's top-end ES8000 series ran the Sony close, but eventually had to settle for second place with a 33.1% share of votes.
Most Exciting Display Tech 2013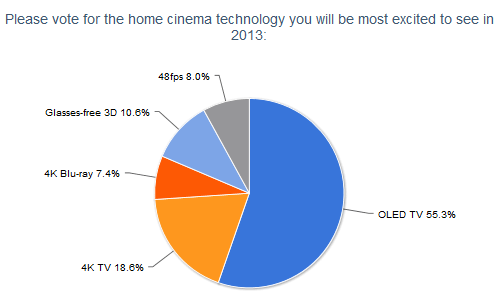 It appears that the low yields and repeated delays that have prevented Samsung and LG from putting their OLED televisions on store shelves have only served to whet the consumer's appetite: the majority of respondents (55.3% to be precise) indicated that the home cinema technology they'd be most excited to see next year is none other than OLED TV. Ultra HD 4K, which is set to have a huge year in 2013, grabbed second spot with almost one-fifth of all votes cast.
Our TV Of The Year 2012
And so the time has come for the review team here at HDTVTest to pick the best TV of 2012. Although there are a number of more than respectable flat-screen HDTVs available to buy on the market depending on your preference and needs, we whittled our shortlist down to a few models, with our emphasis placed firmly on picture quality.
Armed with some of the deepest blacks found on current consumer-grade flat-panel TVs, Panasonic's plasmas are naturally in contention. Unfortunately the Panasonic VT50 and GT50 series suffer from capped light output as well as elevated black level in their most calibration-friendly [Professional] modes (at least in the UK and Europe), leaving the ST50 as the main candidate to fly the Japanese brand's flag.
The only realistic challengers to the Panasonic PDPs are Samsung plasma televisions, specifically those sized 60 inches and above (the smaller 51-inch models exhibit lighter blacks and more image retention). Between the flagship Samsung E8000 and the midrange E6500 series, again it's the step-down model that holds the upper hand as far as image quality is concerned: the E8000 is afflicted with undefeatable noise reduction in non-Game modes; whereas the Samsung E6500 isn't.
It's down to a straight duel between the Panasonic ST50 (any size) and the Samsung PS60E6500 then. The Panasonic shades it in terms of black-level performance and colour accuracy, while the Samsung is more capable when it comes to 3D resolution, standard-definition processing and bright-room performance (the E6500's anti-reflective coating is more effective at rejecting ambient light than the ST50's). The Samsung 60E6500 is also better at resisting image retention and reproducing full 4:4:4 chroma resolution, which – when combined with the nearly non-existent input lag and high-quality motion – makes it the best HDTV for video gaming we've ever reviewed, period.
The Samsung PDP is not without its shortcomings though: when you take into consideration the intermittent brightness pops and 3D frame skipping, its superiority over the Panasonic ST50 is again not so clear-cut – at this stage we're really talking about splitting hairs between two superb plasmas that offer exceptional value for money. Ultimately, the Samsung's versatility for different needs and conditions (gaming, SD, daytime viewing, etc.) was the clincher, prompting us to crown the PS60E6500 as our 2012 TV Of The Year.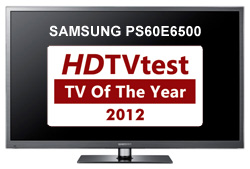 Our chief reviewer David Mackenzie explained:
"It's true that Panasonic's 2012 plasma displays have the Samsung beat in terms of the deepest black level possible (the TX-P65VT50 in [THX Cinema] mode comes in at an incredibly inky 0.005 cd/m2), and also that the Samsung E6500 tops out at 60 rather than 65 inches. Moreover, the Panasonic GT50 and VT50's performance can be improved further with no contrast trade-offs by using an external video processor like the Lumagen Mini-3D.

"But as a standalone set, no other HDTV we've tested in 2012 delivers better all-round picture quality than the 60″ version of Samsung's E6500 series, the PS60E6500. It is outstanding value for money, and can produce high-contrast, accurate, lucid pictures with near-perfect screen uniformity and lack of image retention issues."