Loewe (pronounced ler-ver) is a German brand that develops and manufactures premium AV equipment. Last year at IFA, the company launched the Bild 7, its first-ever OLED television range, which is available in 55-, 65- and 77-inch sizes. Today, we're reviewing the smallest model, the Loewe Bild 7.55.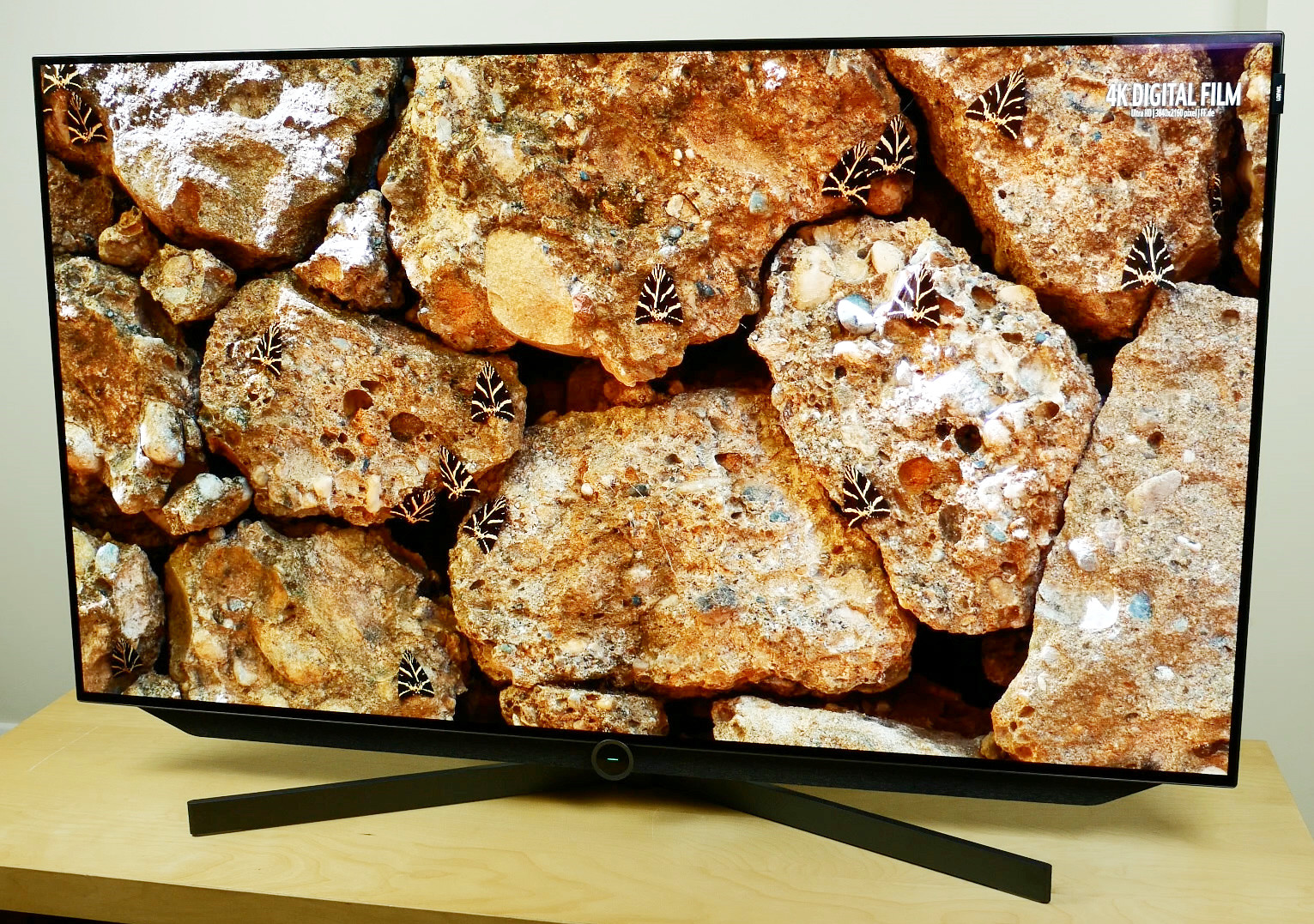 In keeping with Loewe's luxury status which competes at the same level as Bang and Olufsen (B&O), the Bild 7.55 is significantly pricier than every other 55in OLED TV available to buy on the market at this time of publication (May 2017). The screen itself will set you back £4490, with its optional stand – even a standard, non-motorised version – costing extra.
The good news is this price will remain the same (though some dealers may offer bundles with discounted accessories) throughout its shelf life, so residual value (if there's such a thing in consumer electronics) will be kept up. A Loewe spokesperson told us that the company plans to sell the Bild 7 through to the end of 2018 (though there's some fineprint which we shall explain later), and the high price reflects not only the additional features of motorised power-up sequence, integrated 1Tb hard drive PVR, 120-watt soundbar and higher-quality material such as aluminium which then enable the TV's unique design execution, but also continued support over the next 18 months.
This strategy – one that has served niche vendors like OPPO extremely well – is different from other volume manufacturers who release a new product and proceed to discount it over the course of the year before launching another new line the following year.
Design
Loewe was kind enough to loan us a matching motorised table-top stand (model number TSM 7.55; RRP £799) together with our Bild 7.55 review sample, and the entire ensemble just oozes class. Upon starting up, the OLED panel slides upwards silently and elegantly to reveal the 120w soundbar. A white Loewe logo also appears on the screen, aptly against a black background to showcase the absolute blacks and complete absence of haloing that self-emissive OLED display technology is known for.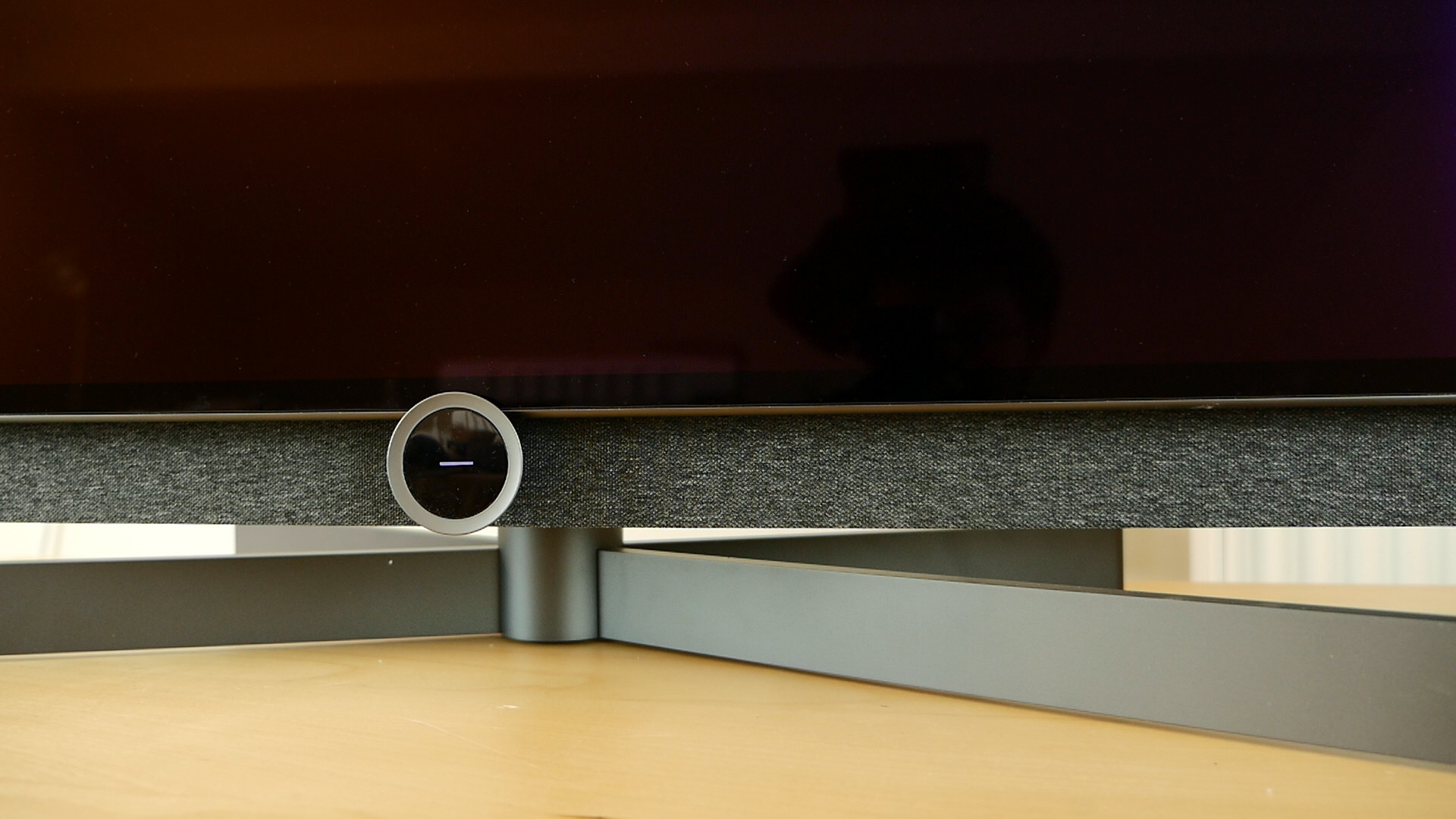 A number of stylish, Loewe-specific design cues have been implemented on the television. A circular LED display hangs from the bottom of the screen to occupy the middle of the soundbar when powered on, emitting different colours to indicate the process in operation. The Loewe branding can be found on a discrete metallic tag attached onto the upper right side of the graphite grey bezel, instantly imparting an air of sophistication to the whole setup.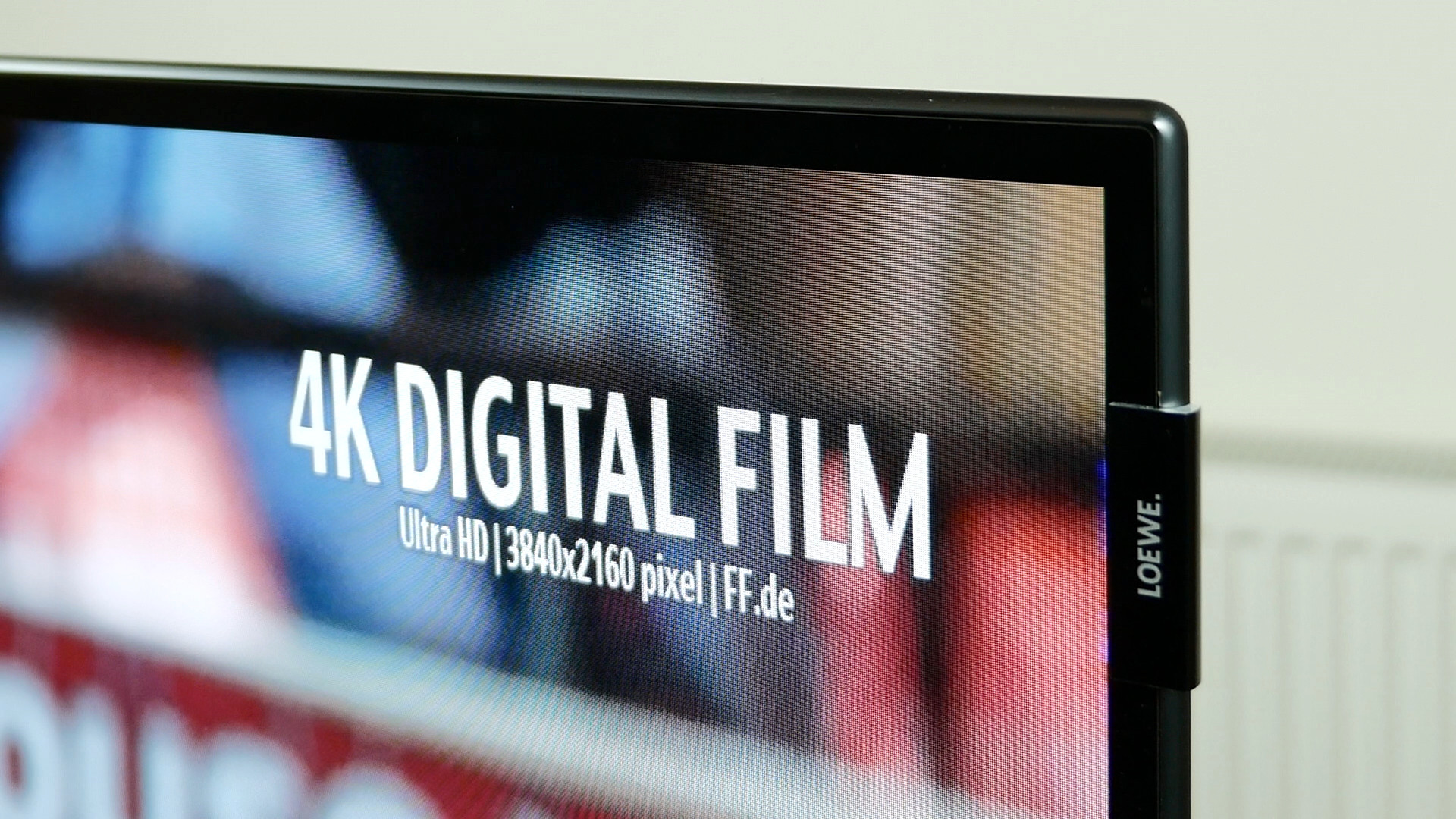 The OLED panel itself is wafer-thin, though some bulk has to be tacked on to the rear to accommodate the internal components such as hard disc drive and cooling fan (which generates a gentle whir). As a result, the thickness of the chassis is closer to CCFL LCD than modern LED or OLED TV, but we've never been one to complain if the TV's picture and sound are up to scratch.
Regardless of whether you choose the table-top or floor stand, the X-shaped base is finished in tasteful matte grey which matches the TV bezel. Our motorised version delivers what must be one of the most impressive party tricks ever seen on a consumer television, allowing us to swivel the screen with a reassuringly smooth and racketry-free mechanism via one press of a remote button.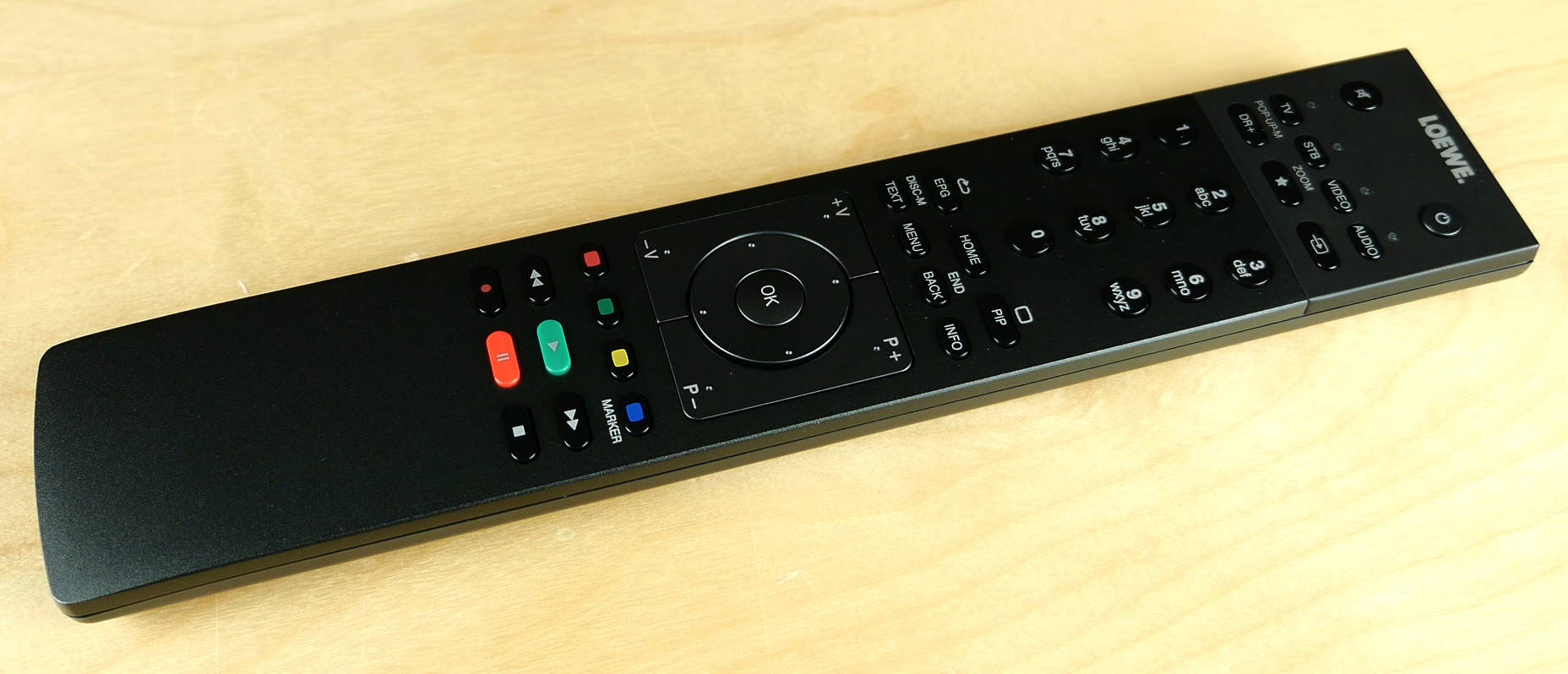 The supplied remote control is beautifully weighted and a joy to wield despite being longer than most TV remotes. Tactile feedback is superb, though perhaps at this price point it would be nice to have been backlit.
Connections
All four HDMI inputs on the Loewe Bild 7 supports HDMI 2.0a with HDCP 2.2. HDMI1, HDMI2 and HDMI3 can accept and display 3840×2160@60Hz but only at 4:2:2. HDMI4, on the other hand, can do so at 4:4:4 chroma, suggesting it's the sole full-bandwidth port on the television. It will come as no surprise then that Dolby Vision devices should be hooked up to HDMI input 4.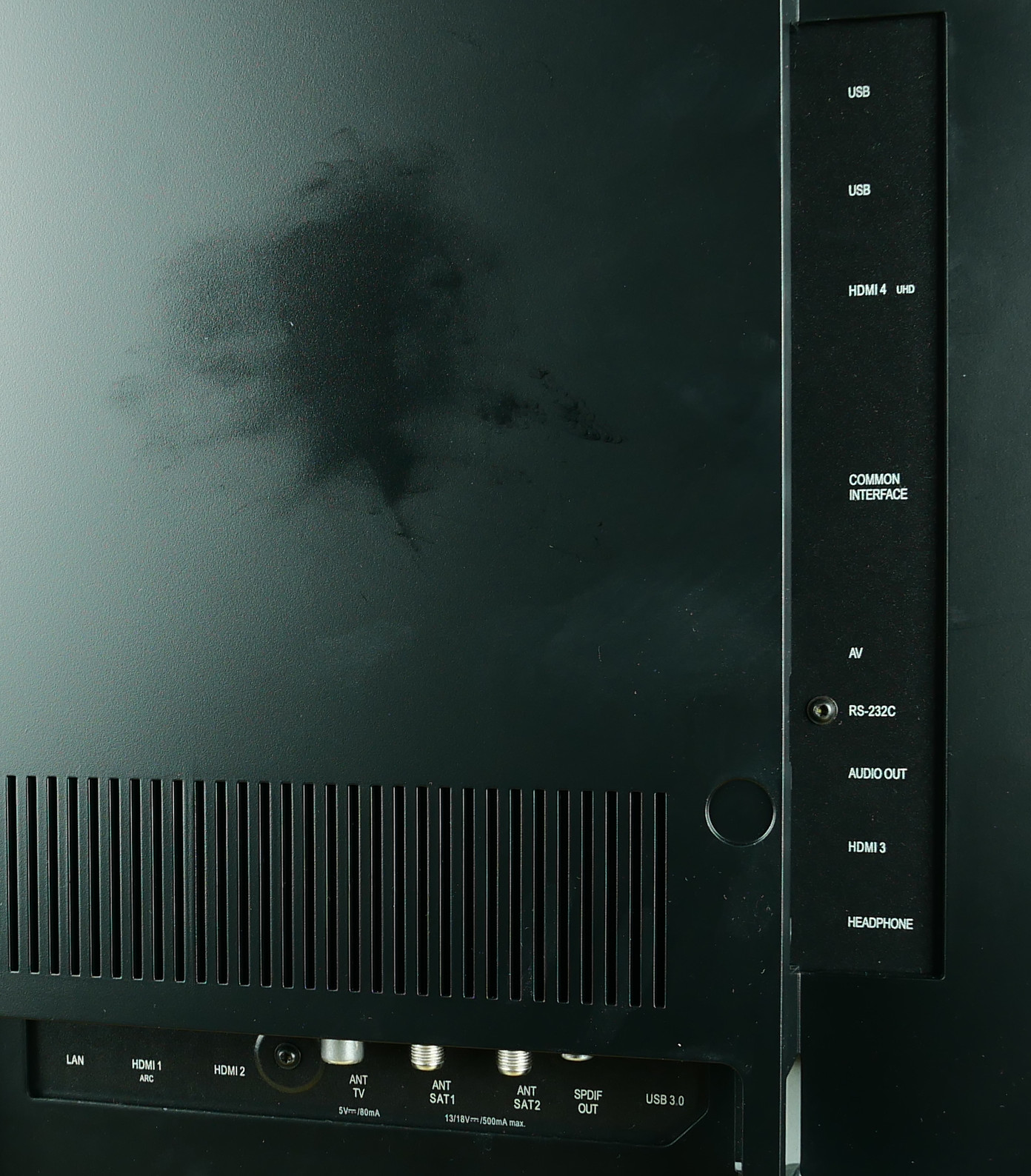 Unboxing & Picture Settings Video
Calibration
The Loewe Bild 7.55 doesn't offer any white balance controls or advanced colour management system (CMS) in its user menu, though two-point RGB gain and offset adjustments are available in the service menu, which we used to calibrate the greyscale. Our calibration gear included a Klein K10-A colorimeter, a JETI Spectraval 1511 reference-grade spectroradiometer, a Murideo Fresco Six-G signal generator, and Portrait Display's CalMAN Ultimate software.
Greyscale
The default [Colour temperature] of "soft" in the most accurate [Cinema Mode] still cast a visible green tint on the picture, prompting us to venture into the service menu to achieve a more neutral greyscale.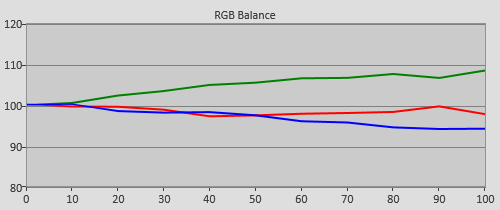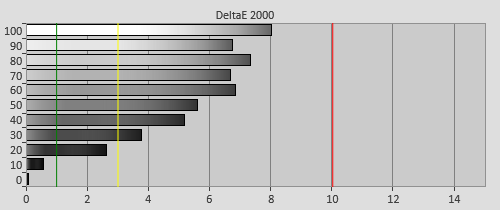 Pre-calibration [Cinema Mode] RGB tracking and delta errors (dEs)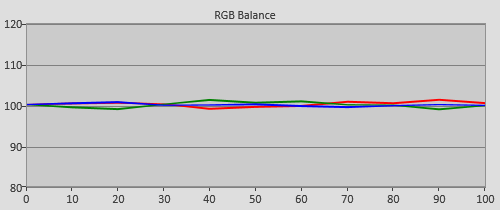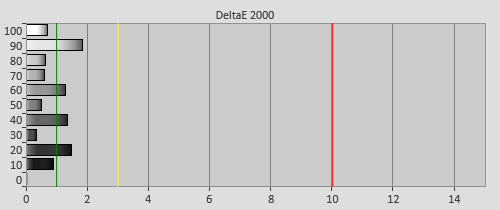 RGB tracking and dEs after service menu calibration in [Personal Mode]
Gamma
| | |
| --- | --- |
| | |
| Pre-calibration gamma tracking (2.37) | Post-calibration gamma tracking (2.39) |
Colour
The absence of a CMS meant that we couldn't correct the cyan and magenta tint errors, but at least red and yellow were on-hue so flesh tones should still look realistic.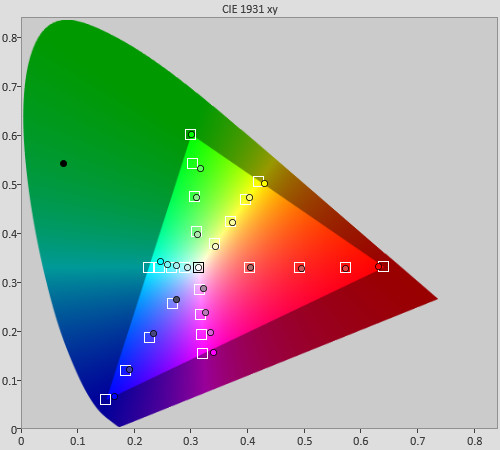 Post-cal colour saturation tracking against Rec.709 standard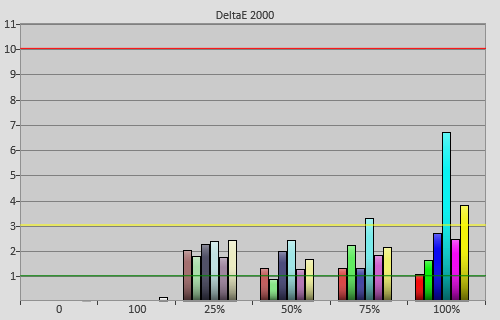 Post-calibration colour errors (<3 not appreciable to the eye)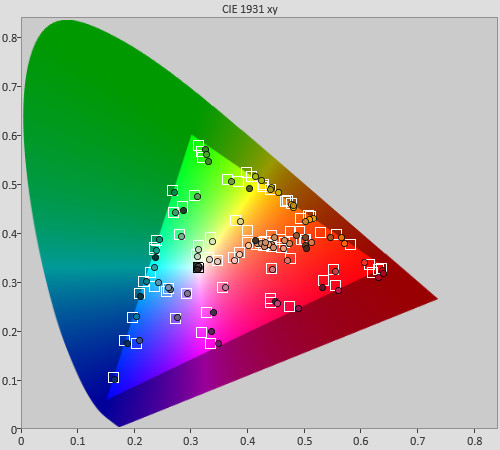 Post-calibration Colour Checker SG test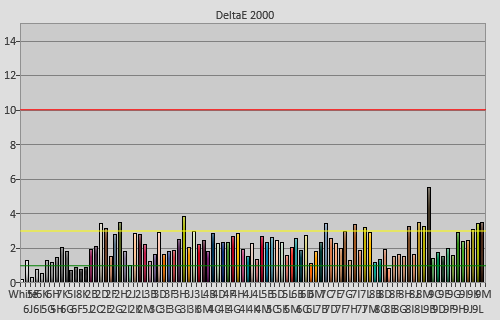 Post-calibration Colour Checker SG errors (<3 not appreciable to the eye)
Benchmark Test Results
| | |
| --- | --- |
| Dead pixels | None |
| Screen uniformity | Very mild reverse vignetting & near-black thin streaks |
| Overscanning on HDMI | 0% with [Picture Format] set to "16:9 PC" |
| Blacker than black | Passed |
| Calibrated black level (black screen) | 0 cd/m2 |
| Calibrated black level (4×4 ANSI) | 0 cd/m2 |
| Black level retention | More stable than 2016 LG OLEDs |
| Primary chromaticity | Good |
| Scaling | Very good; some overshoot & fizziness |
| Video-mode deinterlacing | Decent jaggies suppression |
| Film-mode deinterlacing | Passed 3:2/480i, 2:2/576i & 3:2/1080i cadences, though lost lock occasionally |
| Viewing angle (cone) | 166° |
| Motion resolution | 650 with [Film quality improvement] on; 300 off |
| Digital noise reduction | Optional; effective when engaged |
| Sharpness | Mild undefeatable edge enhancement for 1080 source |
| Luma/Chroma bandwidth (2D Blu-ray) | Full Luma; Chroma horizontally blurred |
| 1080p/24 capability | No judder |
| 2160p/24 capability | No judder |
| Measured panel refresh rate | 120Hz |
| Measured peak brightness | 770 cd/m2 10% window; 148 cd/m2 full-field |
| Measured DCI-P3 coverage | 99% |
| Leo Bodnar input lag tester | 40ms in 1080p; 66ms in 2160p with [Gaming mode] on |
Power Consumption
| | |
| --- | --- |
| Default [Home Mode] | 124 watts |
| Calibrated [Personal Mode] | 113 watts |
| HDR10 [Personal Mode] | 142 watts |
| Standby | <1 watt |
Picture Performance
Blessed with the ability to render true 0 cd/m2 blacks and stunningly rich colours that don't deteriorate off-axis thanks to OLED's self-illuminating characteristic, the Loewe Bild 7.55's image quality was never going to disappoint.
Long-time HDTVTest readers will know that no OLED TV to date is free of near-black uniformity issues, but our Bild 7 review sample was the cleanest yet we've encountered in this regard. Scrutinised in a pitch-black room, there's only very mild brightening along the sides (often referred to as "reverse vignetting" among video enthusiast communities) and thin vertical streaks of banding on a 1% above-black full-field raster. The uniformity so impressed us that we reached out to Loewe and asked if they specified more stringent criteria before accepting higher-grade OLED panels from LG Display. "The Bild 7 uses a panel that is made by LG Display exclusively for Loewe" was the reply.
It was interesting to see how the Loewe 7.55 handled the area just above black, a sort of Achilles' heel on pre-2017 LG OLEDs. What the German TV maker seemed to be doing is to brighten the display's gamma as it comes out of black, presumably to prevent crushing shadow detail, as the following 21-point gamma charts show:
| | |
| --- | --- |
| | |
| Loewe OLED 21p gamma tracking | LG OLED 21p gamma tracking |
Or maybe lowering near-black gamma was Loewe's way to compensate for the overly crude [Brightness] control in the user menu. We couldn't find a sweet spot that would let us hit video black correctly: one click higher would reveal blacker-than-black data, so we had to settle at a value that meant digital levels 17 and 18 were not visible in test patterns. Despite this, shadow detail remained mostly intact in real-world viewing owing to quicker rise out of black.
Of course, brightening near-black will expose more noise and macroblocking that have irked many LG OLED owners, but to Loewe's credit, the onboard processing suppressed these fairly effectively, though not to the level of the 2017 OLEDs such as the LG B7 or Sony Bravia A1.
The Loewe Bild 7's native motion resolution came in at the standard sample-and-hold baseline of 300 lines according to the horizontally scrolling lines in Chapter 31 of the FPD Benchmark Software test Blu-ray. Engaging [Film quality improvement (DMM)] boosted the figure to 650 lines, but introduced soap opera effect (SOE) to 24p movies even on the lowest setting. Loewe's motion interpolation wasn't as artefact-prone as LG's, so we could go as high as [DMM] "middle" for watching sports, although we still preferred the set-and-forget [Perfect Clear Motion] technology on the Philips 901F.
Even with all relevant settings switched off, the Bild 7.55 applied mild undefeatable edge enhancement (EE) to 1080p content. We watched a ton of video material, and the sharpening didn't exaggerate film grain or harshen the lines to an objectionable degree, which should appeal to most viewers. However, if you're a purist who dislike any type of forced processing at all, you can feed the television with a 4K UHD (ultra high-definition) signal to defeat the EE.
After being updated to the latest firmware (as of May 2017), our Loewe Bild 7 review unit successfully played HDR10, HLG (Hybrid Log-Gamma) and Dolby Vision video files through its USB ports. While we couldn't verify support for the latter two formats over HDMI due to lack of content, there's no reason to doubt they won't work (at least through the HDMI 4 input).
In calibrated HDR10 mode, peak brightness on a 10% window measured as high as 770 nits, a new record for all OLED TVs we've tested thus far. DCI-P3 gamut coverage came in at 99%.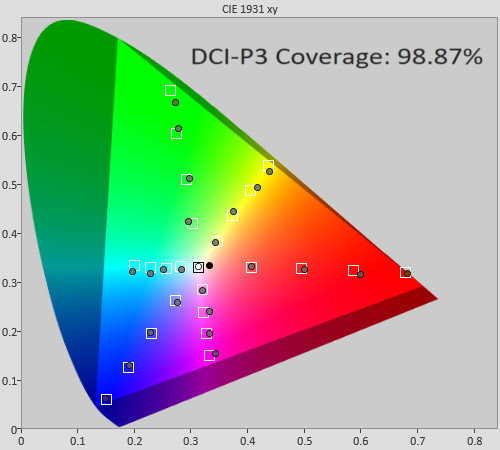 Post-cal HDR colour tracking against DCI-P3 standard within Rec.2020 container
The figures certainly fly in the face of those who have been stereotyping OLED TVs as using 2016 or 2017 panels based on peak luminance and/or 3D capability. From our subpixel analysis and SPD (spectral power distribution) capture, not to mention speaking with LG engineers, there's very little difference between 2016 and 2017 WRGB OLED panels, with any improvement coming from iterative manufacturing process.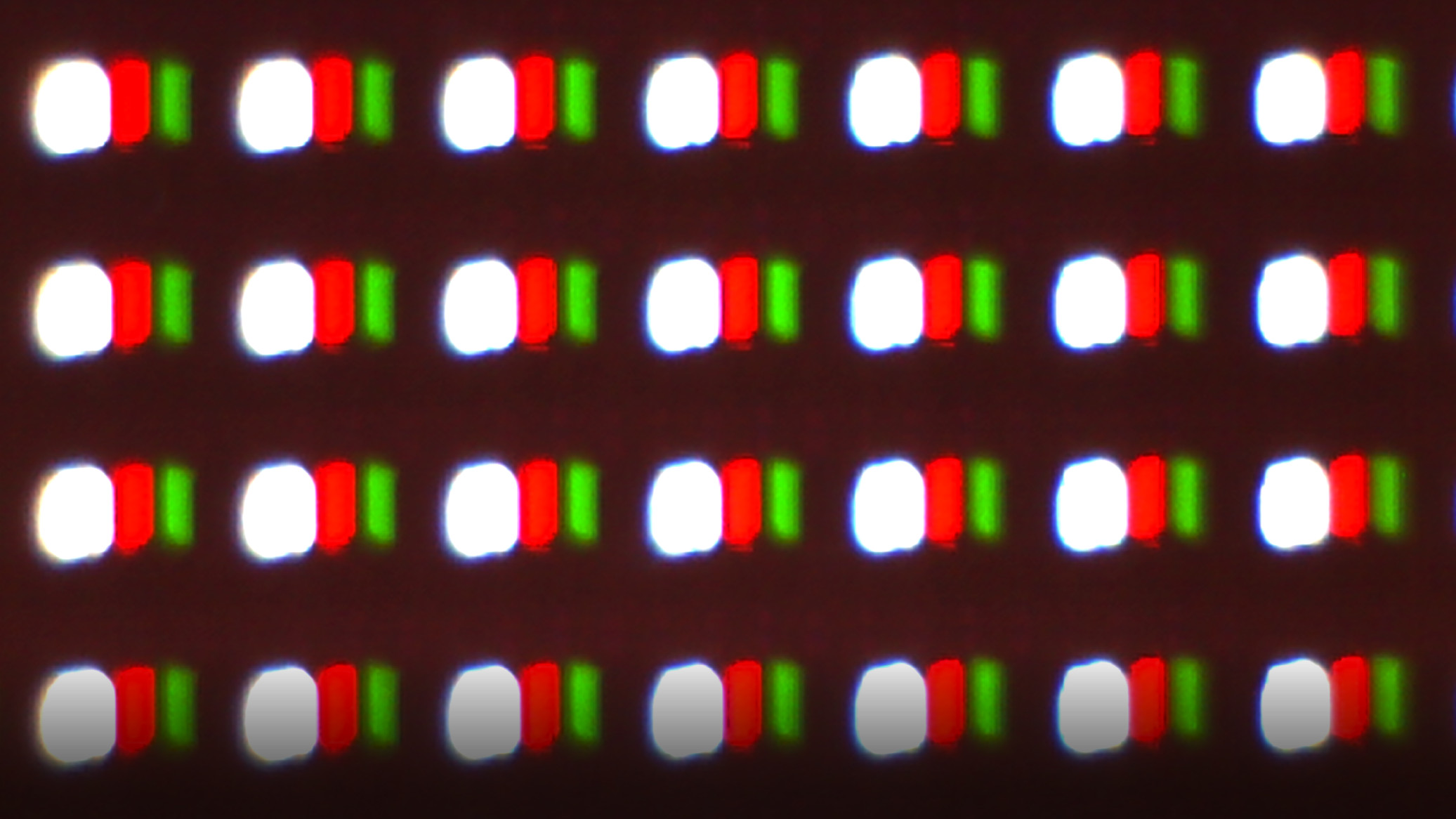 Macro photo of subpixel structure confirming LG Display's WRGB OLED layout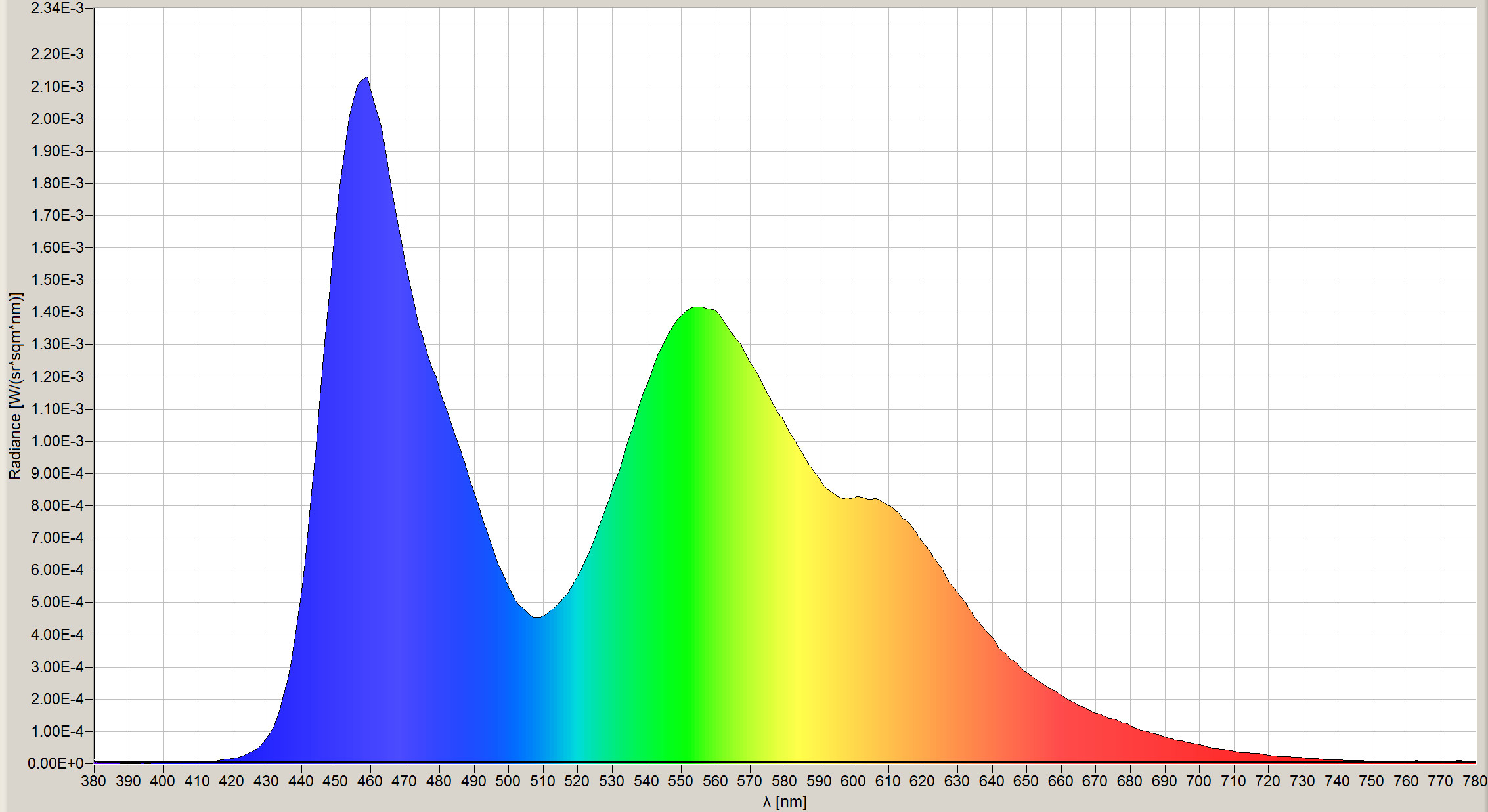 Spectral power of distribution (SPD) captured using a JETI 1511 spectroradiometer
Although it's only one isolated case, our measurements – together with slightly better near-black uniformity – lend support to Loewe's claim that they're sourcing exclusive panels from LG Display, probably at a higher cost which is then reflected in the final price of the product.
Having said all these, supply of OLED panels fitted with polarized 3D filter will run dry within the next few months, as LG Display shift their full focus on producing and selling non-3D panels going forward. In keeping with the company's strategy, Loewe will soon be selling 2D-only versions whilst retaining the Bild 7 model number through to the fourth quarter of 2018: in fact, the imminent 77-inch Bild 7.77 will be using a "2017" panel without 3D support.
After comparing side-by-side against 2017 OLEDs including the LG B7, C7 and Sony A1, we truly admire the HDR10 tone-mapping work that Loewe's German engineers have done – the algorithm is of a very high quality. Here's how the Bild 7.55 tracked the PQ (perceptual quantisation) EOTF (electro-optical transfer function) standard at different nit levels:
Click on the options below to compare the Loewe Bild 7's PQ EOTF:
MaxCLL 1000 nits | MaxCLL 4000 nits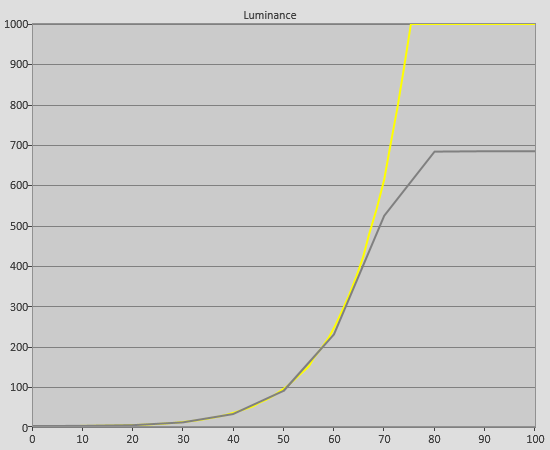 Whether it's Ultra HD Blu-ray that's mastered to 1000 or 4000 nits, the Loewe 7.55 will try to track the PQ EOTF curve as close as possible (therefore maintaining APL or Average Picture Level) before rolling off in the brighter regions to preserve specular highlights. The Sony Bravias will discard bright highlight detail (technically known as clipping) the nearer it gets to 4000 nits; whereas the LGs have a tendency to darken the entire picture in an effort to display such highlights.
There's no established standard for tone-mapping, so we can't really say who is right and who is wrong, but we think Loewe's approach (one that is very similar to Samsung's) strikes the best balance between brightness and detail. However, like what we've observed Samsung's 2016 SUHD and 2017 QLED televisions, this tone-mapping method is not without its own downsides. Notably, posterisation was incurred where there should be smooth gradation, especially in 4K Blu-rays that are mastered to 1000 nits (for example, the skies in The Martian and The Revenant). You can use the [HDR10 Bright] mode to reduce the posterisation by shifting the EOTF curve, but then you'll throw video accuracy out of the window.
Let's talk 3D while it lasts, even though the Loewe Bild 7.55 doesn't ship with any polarised 3D glasses. The TV resolved full HD 3D resolution, and as with all OLED-driven passive 3-D technology, the tri-dimensional image was bright, contrasty, colourful and free of flicker. The onboard 3D implementation was 60Hz-centric though, so slow panning shots in 24Hz and 50Hz extra-dimensional material would exhibit some judder. Because of this, the 2016 LG 4K OLED televisions remain the best 3DTVs ever made in our book.
We didn't really expect Loewe to particularly care for the needs of gamers, with it being a luxury brand and all, so we're pleasantly surprised to find a [Gaming mode] buried in the [Connections] submenu. It works reasonably well too, lowering input lag to an entirely playable 40ms in 1080p SDR. 2160p games caused more latency: input lag measured 66ms using a Leo Bodnar tester irrespective of whether it's SDR or HDR.
| | |
| --- | --- |
| | |
| 1080p SDR with [Gaming mode] on | 2160p HDR with [Gaming mode] on |
A quick word on sound, even though our publication primarily pay attention to picture quality. The integrated soundbar pumped out some impressive bass that sounded rich yet tightly-knitted, and overall stereo separation was fairly precise. At low volumes we did crave for that extra bit of clarity though – this is a speaker system that demands to be cranked up, which it of course does obligingly.
Conclusion
The Bild 7 is an outstanding OLED debut from Loewe, with the 55-incher we reviewed featuring the highest peak brightness we've extracted from any OLED TV to date. Together with remarkable tone-mapping, this delivered some of the most impressive HDR images from an OLED we've ever laid eyes on. Outside of LG's 2017 models, the Bild 7.55 and 7.65 are the only TVs in the UK and Europe that can readily playback HDR10, HLG and Dolby Vision content at this time of writing (the Sonys and 2016 LGs are still waiting for firmware updates), and don't they all look lovely.
The undefeatable 1080p sharpening and lack of user-menu calibration controls may put off some videophiles, but if you can afford its higher-than-average price, the Loewe Bild 7's unparalleled craftsmanship, motorised wizardry, and general picture and sound quality make for a package that will put a smile on your face every time you switch it on.
Note: If you're considering buying this television, please support this website by making your purchase from our sponsor Crampton & Moore Leeds – call 0113 2446607 and ask for store manager David (who also organises our annual TV shootout event), quoting HDTVTest for advice, best price and first-rate service.