Samsung Smart TVs have now become even more appealing for existing and future owners in terms of internet-enabled content availability, with the announcement that the Korean consumer electronics manufacturer has added the Blinkbox video-on-demand (VoD) app to its Smart Hub web-connected portal. Samsung already offers a great choice of video streaming services on its Smart TV displays, including LoveFilm, Acetrax and BBC iPlayer.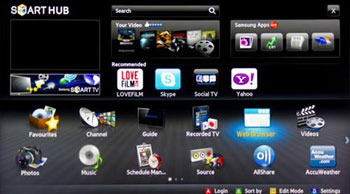 Blinkbox video-on-demand app hits Samsung Smart Hub portal
Viewers will be able to access the VoD platform from Samsung Apps, which means that it will be accessible by those that have Samsung Smart televisions as well as Blu-ray players and home cinema systems. Marketed as the leading digital movie service in the UK by Blinkbox itself, the service will bring improved choice to viewers who want to enjoy high quality viewing and a range of viewing options.
With the Blinkbox video-on-demand service viewers can enjoy streaming content such as movies, trailers and television shows, which are available on a paid basis as well as for free in some cases. In addition to this, users can choose to purchase content to view on an unlimited basis.
The Blinkbox app offers a range of content to suit different tastes and preferences, such as documentaries, foreign language movies, new releases that are sometimes available on the same day as they are released on DVD, and more. The service has a variety of high profile partners including Twentieth Century Fox, Warner Bros and Universal Pictures. Users will appreciate the choice of TV shows that can be enjoyed via the Blinkbox service as well, which includes a range of popular US and UK shows including The West Wing, Saturday Night Live, Spooks and Dr. Who amongst others.
Blinkbox's co-founder and CEO Michael Comish praised Samsung's internet-connected platform, pointing out that its intuitive user interface makes it possible for more consumers to enjoy a rich and varied viewing experience, which is why the company did not hesitate in partnering up with the Seoul-based HDTV maker.