Earlier this week, the BBC made its breathtaking Blue Planet II (BP2) series available to watch in UHD (ultra high-definition) resolution and HLG (Hybrid Log-Gamma) HDR format through the iPlayer app on compatible devices. We tested out the streamed episodes on 2017 4K televisions from major TV brands in the UK, and LG Electronics has emerged as the clear winner in showcasing the potential of this fledging broadcast HDR format.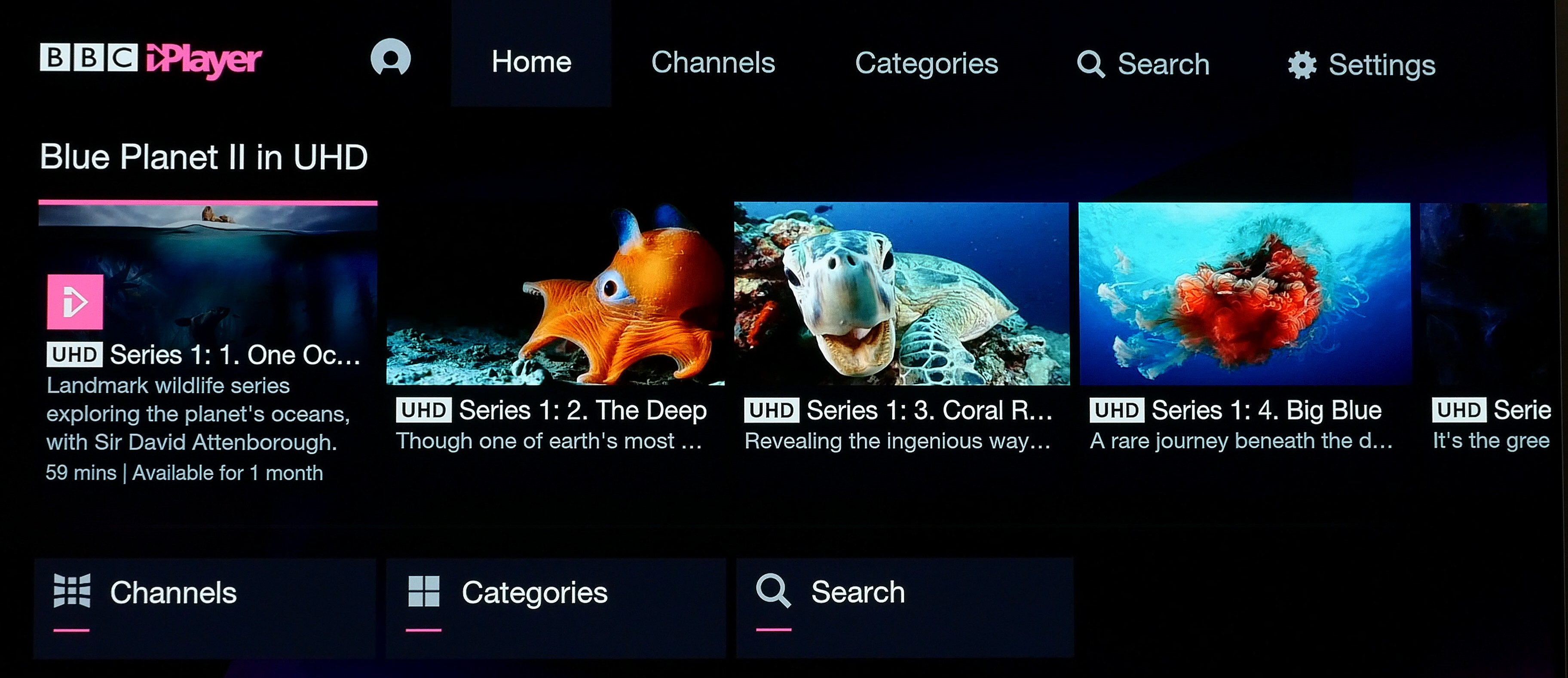 Most of LG's 2016 and 2017 OLEDs including the B6, E6, B7, C7 and E7 could play all seven episodes of Blue Planet 2 in UHD HDR using the TVs' internal BBC iPlayer app, with the 2017 models displaying a notification on the top right of the screen once the display kicks into HLG HDR mode. The on-screen dynamic range was visibly expanded, presenting more specular highlight detail without clipping, which in turn enhanced the sense of depth derived from the picture.
At this time of publication, Samsung's 2017 televisions including the MU series as well as QLED range haven't received the necessary iPlayer update to play Blue Planet II in 4K HLG HDR, and it's unclear whether said update will arrive in time for owners to enjoy the nature documentary before it expires on iPlayer on 16 January 2018 (thirty days after broadcast).
A similar fate has befallen owners of Sony Android TVs such as the Bravia XE90, XE93, XE94, A1 OLED and ZD9, who are also impatiently waiting for the promised Dolby Vision firmware upgrade. These televisions can only playback Blue Planet II in high-definition via their onboard iPlayer app.
Compatible Panasonic 4K TVs such as the EX750 LED LCD plus the EZ952 and EZ1002 OLEDs could play BP2 in HLG HDR using the internal BBC iPlayer app, but the picture was forced to an overly cool colour temperature and frame interpolation applied (probably Dynamic mode), which remained the same despite user menu settings adjustments.
The one Hisense TV we had in for testing (NU8700) played BP2 from iPlayer in UHD but not HDR. Unfortunately we didn't have Philips or Loewe televisions in our test room to check. Hopefully manufacturers besides LG can work closely with the Beeb to bring the Blue Planet II HLG HDR experience to their customers before the series is pulled from iPlayer – it's a visual spectacle that has to be seen to be believed.