Get ready for a fiesta of free football games from next season – in what it's calling a "game-changing" shake up of the sports Pay-TV world, BT has announced plans to bring live Premier League football matches to millions of homes in the UK as it bids to wrestle away BskyB's dominance of the UK's most popular sport.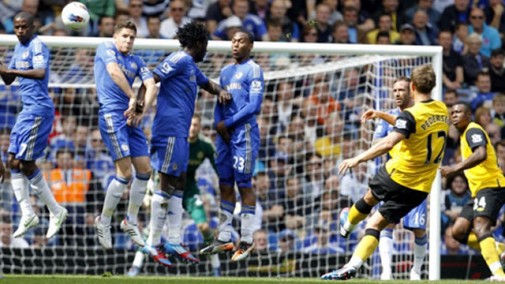 BT Sports offers free Premier League football for broadband customers
BT says that its new sports channels will be airing live weekly matches to its broadband customers starting from the 2013/2013 season at no extra cost, making it the first broadcaster to do so since the Premier League came into existence in 1992. As it stands, that means that more than five million households that already subscribe to BT broadband will be able to watch the likes of Man U and Man City battle it out on the pitch without having to pay.
Over the last couple of years, BT has emerged as a serious threat to BskyB's dominance of UK sports coverage, upsetting a status quo that has existed for more than twenty years. Just recently, BT acquired the rights to screen ESPN's UK and Irish TV channels,
As of next season, BT will be given exclusive rights to screen live coverage of 39 Premier League matches – one per week – together with select FA Cup, Scottish Premier League and Europa League games. This is in addition to its live coverage from the French, German, Italian and Brazilian leagues. The action will be screened across three separate channels, namely BT Sport 1, BT Sport 2 and ESPN. Other sports in its armoury include Aviva Premiership rugby matches, MotoGP, women's tennis and UFC fights.
By offering free Premier League games, BT is clearly hoping to grab a bigger share of the 20 million-plus UK homes that already enjoy broadband connectivity, while it also has its eye on enticing those that have yet to switch over.
According to Ian Livingstone, BT's Chief Executive, the company's aim is to increase the number of households in the UK that can enjoy access to live sports:
"For too long, UK sports fans have had a rough deal. So many have been priced out of the market. We think that's unfair and we aim to change this by offering free BT Sport for all of our broadband customers. Today, sports fans are the winners."
As well as the very big news that Premier League games will now be free for its broadband customers, BT revealed plans to undercut rival Sky with the packages it offers to everyone else. The broadcaster is offering full access to its range of sports channels via satellite dish for just £15 per month, in comparison to Sky's £21 a month subscription fee. Meanwhile, BT has also promised to offer commercial venues a fantastic deal that it says will be 80% cheaper than those offered by Sky.
BT Sport is set to show its first Premier League match on Saturday, 17th August at 12.45pm. We don't know who will be playing just yet, but BT has at least given us an idea of who to expect in the studio. At the same time as announcing its packages, it revealed the names of its pundits and presenters, with stars such as Michael Owen, Rio Ferdinand, Steve McManaman, Owen hargreaves and David James all set to chip in with their opinions, alongside referee Mark Halsey.