The International Telecommunications Union (ITU) has announced a ratified standard for High Dynamic Range (HDR) TV in its Recommendation BT.2100 document published this week, adding to the higher resolution and wide colour gamut (WCG) advancements specified in the organisation's UHDTV (ultra high-definition television) BT.2020 recommendation which was approved back in October 2015.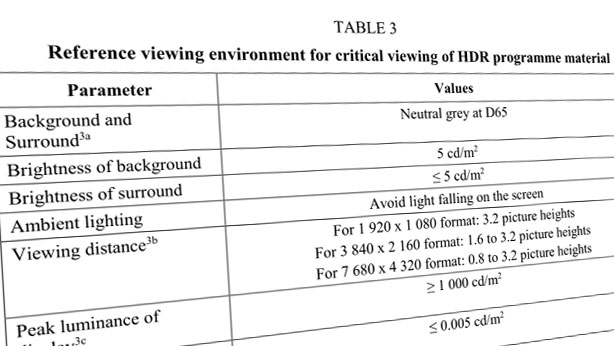 HDR has been all the rage among TV manufacturers this year, with the expanded dynamic range allowing for more detail and realism than was ever possible within Standard Dynamic Range (SDR) content. In properly-mastered HDR material, the presence of extra highlight detail makes outdoor sunlit scenes appear brighter and more natural; whereas at the other end of the contrast spectrum, shadow detail can be enhanced too in dark scenes, revealing more texture and nuances that are usually lost in SDR.
Two transfer function formats have been specified in the ITU's BT.2100 (or Rec.2100) document, namely Perceptual Quantisation (PQ) and Hybrid Log-Gamma (HLG). The former (which is the more prevalent in the consumer world) is used in HDR10 (including 4K Ultra HD Blu-rays) and Dolby Vision; whilst the latter offers a degree of compatibility with legacy SDR displays by more closely matching the previously established television gamma systems.
Interestingly, high definition resolution of 1920×1080 is also catered for alongside "4K" and "8K" resolutions of 3840×2160 and 7680×4320 respectively, paving the way for HDR transmission in HD if broadcasters so wish.
Reading through the publicly available BT.2100 specifications from ITU, we note the international standards body has stipulated a peak luminance of at least 1000 cd/m2 (also known as nits). No alternative peak brightness target has been specified for OLED displays, unlike what the UHD Alliance (UHDA) has done with its Ultra HD Premium certification criteria.
Of course, strictly speaking BT.2100 only applies to mastering displays in production and broadcast facilities, but it does raise a slight concern whether current consumer OLED TVs (none of which has managed to reach 1000 nits according to our tests) can faithfully reproduce the director's HDR intentions despite OLED's obvious strengths of true blacks and lack of haloing/ blooming. High-quality tone-mapping will be critical.
Eagle-eyed readers may have noticed too that Rec.2100 also recommends that ambient lighting shouldn't exceed 5 cd/m2 for critical viewing of HDR programme material in a reference environment, again driving home our point that in its current guise, 4K HDR Blu-ray movies are best appreciated in an almost pitch-black room.
Source: ITU