Freeview celebrated a major milestone this week, marking ten years since the first terrestrial digital TV service launched in the UK. And as part of its anniversary celebrations, the digital television platform carried out some research aimed at discovering just which technological TV innovations over the last ten years meant the most to British viewers.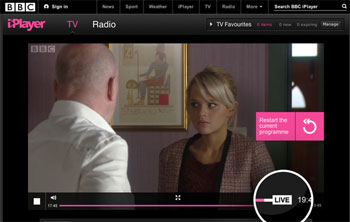 Catch-up voted top TV tech, but 3D flops in Freeview poll
Perhaps unsurprisingly, on-demand viewing (or catch-up TV) from services like the BBC iPlayer and ITV Player was voted by British viewers as being by far and away the most important new innovation in television over the last decade, with 36% of respondents saying it was 'most vital' for them. Meanwhile, Freeview itself also received fairly large backing from British audiences, with 14% saying that the availability of digital TV recorders like the Freeview+ box was essential for their viewing experience.
Of the 2,000 viewers surveyed by Freeview from across the UK, another 10% said that the digital switchover was the most important development for them, citing the mass availability of free digital channels that the technology has delivered into UK homes.
Not all the recent innovations in TV technology have been that well received however; 3D TV, which has been one of the most heavily marketed features of numerous HDTV sets in recent years, was chosen by only 5% of viewers in the Freeview poll – pointing to the fact that this display technology is still seen as something of a luxury by the majority of the UK public. The same goes for mobile TV as well, with just 4% of viewers stating that the ability to watch content on their smartphones and tablet devices was most important for them.
"The astonishing pace of technological development over the last decade has meant viewers have far more choice in how and when to see their favourite TV shows. These developments have dramatically improved the overall experience for British viewers, and Freeview's focus for the next ten years will be to improve on them, delivering high quality, vibrant content for free, in the format people want," said Freeview's managing director Ilse Howling.
Freeview's survey also explored developments in programming over the last ten years, rating the revival of period dramas (19%) and the rise of comedy shows as the most important new developments.
As for the best new programmes to hit our screens in the last ten years, ITV's Downton Abbey came out tops among those surveyed, just ahead of BBC crime drama Sherlock and Channel 4 comedy The Inbetweeners.