The Consumer Electronics Association (CEA) has this week invited interested manufacturers in the HDTV industry to submit proposals to standardise the infrared synchronisation signal used on active-shutter 3D glasses, so that eyewear from one brand can be used on three-dimensional TVs from other makes. The American trade organisation hopes that by arriving at a common standard for interoperable 3D glasses, the public will be less hesitant about buying a 3D TV, which will then drive up household adoption.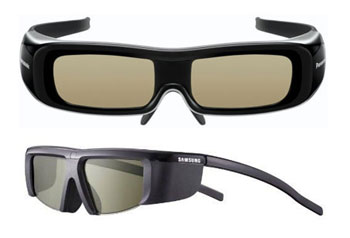 At present, a pair of active-shutter 3D glasses from a certain manufacturer will generally only work with 3DTVs of the same brand, because the infrared signal used to synchronise the 3D goggles to the corresponding transmitter varies from one TV maker to another. Without correct synchronisation, the shutters on the glasses will not open and close in tandem with the two slightly different images sent to the left and right eyes, therefore extinguishing any intended 3D effect.
CEA's vice president of research and standards Brian Markwalter explained that the organisation is simply fulfilling its role as a respected standards-setting body when pushing for such a change. He believes that as 3D TVs become more prevalent in the marketplace, the need for interchangeable active-shutter glasses between different 3DTV brands grows even stronger due to consumer demand and expectations.
Interested consumer electronics manufacturers have been asked to submit their ideas through the downloadable Active Eyewear Standards IR Sync Request For Proposal form before 5pm Eastern Standard Time (EST) on the 31st of May 2011. A 3D Technologies Working Group, R4WG16, has also been set up which is open for participation subject to approval.
While the CEA's desire to establish a universal standard for 3D glasses is commendable, active shutter is not the only technology available on the market. LG Electronics have teamed up with several well-known HDTV manufacturers including Toshiba, Vizio and Philips to push its FPR (film-type patterned retarder) passive 3D LCD panels, trumpeting their more affordable prices, flicker-free 3D viewing experience, and also the complementary polarized 3D glasses' superior cost and comfort. Further down the line, glasses-free (also known technically as autostereoscopic) 3D TV may become the norm, but it will probably take quite a few years before the technology is able to achieve mass-market penetration.
Source: CEA