In an effort to boost sales of 4K Ultra HD TVs, the Consumer Electronics Association (CEA) has teamed up with DEG (The Digital Entertainment Group) to produce an 'educational video' aimed at retailers to help them better educate their customers.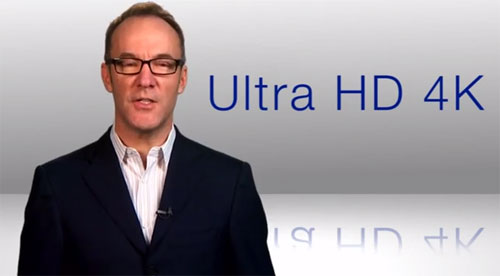 The video itself is just short and sweet at only one minute long. It's been designed for retailers to show to their customers, and highlights many of the benefits of ultra high-definition (UHD) television. The video also contains a sample of 4K movie trailers from several major studios, and will be supplied on a USB drive that can plug into the vast majority of 4K TVs. Somewhat ironically though, the downloadable version of the video will not be in 4K – for some incomprehensible reason, it's only available to download at a resolution of 720p, encoded with H.264 at a bitrate of 10Mbps.
Commenting on the release of the video, CEA President and CEO Gary Shapiro noted that 4K Ultra HD is "the next step forward" in home entertainment technology. He cited research from the CEA, which found that almost three quarters of US consumers who were shown 4K television in retail stores declared an interest in owning an Ultra HD TV set. This falls in line with a recent projection from industry analyst firm Futuresource Consulting, which claims that 4K TVs will account for more than one-third of all TV sales by 2018.
With industry bodies like the CEA getting involved in pushing UHDTV, and competition from low-cost Chinese brands driving prices down, it's certainly not inconceivable that consumers will be looking at the best available technology when the time comes to upgrade their TV sets. The only real stumbling block is the lack of native 4K content available, but Futuresource says that even this won't be much of an obstacle.
As for the CEA's educational video espousing just what 4K is all about, those interested will be able to see it in all of its Ultra HD glory at participating retail stores during CE Demo Days, a campaign that runs from the 2nd to the 4th of May. For those who wish to download the video themselves, they can do so at the following link. For the convenience of readers, we've uploaded the video on YouTube here:
Interestingly, the phrase "Ultra HD 4K" was mentioned and displayed at least twice in the promotional video, even though the CEA had previously endorsed "Ultra HD" as the official term for the next-generation ultra high-resolution standard.