Figures released this week by market research firm NPD Group have shown how the 3D TV market share of technology giant Samsung appears to be on the slide in the USA, slipping from 55 percent on average for the first half of the year to 49 percent in September. In second place when it comes to 3DTV market share in the United States is cross-town rival LG Electronics, who has secured 19 percent share of the market, representing a near fourfold increase since the beginning of this year.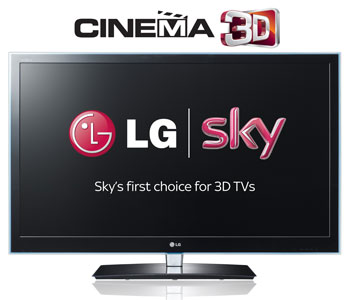 Cinema 3D helps LG nearly quadruple its US 3DTV market share
Whilst there remains a sizable gap between the market share that the two companies hold, it seems that LG's Cinema 3D FPR (film-type patterned retarder) technology has helped the Korean TV manufacturer make inroads into some of Samsung's market share in the United States, bridging that gap a little more.
Of course, there are other companies in the running as well when it comes to grabbing a chunk of the US 3D television market, but they are still a long way off from getting anywhere near to Samsung. At present, Panasonic and Sony each commands 13 percent of the market, while Sharp has just 2 percent of US market share as far as 3D-capable HDTV displays are concerned.
LG has seen its market share soar over the course of this year, posing the biggest threat to Samsung. At the beginning of 2011, the market share for the Seoul-based conglomerate when it came to 3D TVs in the USA stood at just 5 percent. However, over the course of nine months its market share has almost quadrupled, shooting up to 19 percent and putting the company in second place behind Samsung.
LG's increased market share is thought to be as a result of the TV maker concentrating its R&D (research and development) and marketing efforts on passive 3D (dubbed "Cinema 3D" by the company). LG Cinema 3D TV models have proven popular among consumers, owing to their ability to deliver flicker-free extra-dimensional images, as well as allow for polarized 3D glasses which are typically cheaper, lighter and more comfortable than their active-shutter counterparts.