The penetration rate of internet connectivity and "Smart" functionalities on HDTV displays continues to gain momentum on a global scale, a recent study has revealed. According to the latest Quarterly Smart TV Shipment and Forecast Report published by market research firm DisplaySearch, more than a quarter of televisions shipped worldwide during the first quarter of 2012 boasted internet-connected features, while almost one-fifth were Smart TVs.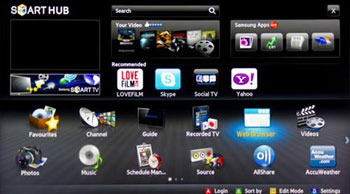 Connected & Smart TV penetration rates on the up
The report, which analyses the shipments of connected and Smart televisions based on manufacturer, screen size, display type and country, specifically made a distinction between a connected TV and a Smart TV. The former allows access to video-on-demand (VoD) services from broadcasters (e.g. BBC iPlayer) and other social platforms (such as YouTube), whereas the latter is defined by the presence of a branded portal (for example Samsung's Smart Hub, Panasonic's Viera Connect, etc.).
DisplaySearch reported that of all the TVs shipped globally in Q1'12, around 27 percent were internet-connected. Japan led the way, with 46 percent of televisions sold in the country featuring web connectivity. Western Europe and China followed behind with internet capability penetration rates of 36 percent and 32 percent respectively.
Japan was again the top region as far as Smart TV shipments are concerned, with 36 percent of TVs shipped during the first quarter of this year being Smart TVs. China ran a close second with 30 percent, followed by Western Europe with 29 percent. Penetration rates of Smart televisions were well above 10 percent across all regions, with North America sitting at 18 percent.
DisplaySearch's director of TV electronics research Paul Gray explained that connected TV is in its second stage of evolution, as more and more consumers enjoy internet videos on their television screens instead of on computers or laptops. He added that as long as there is interesting content to watch on the web, the popularity of connected TVs will keep growing.