Regular readers may have noticed there's a bit of a trend towards making TVs on the curvy side these days, what with brands like Samsung, LG and even China's Skyworth eagerly showing off the merits of their gorgeous curved OLED tellies at every opportunity they get. Well now, that trend has been confirmed.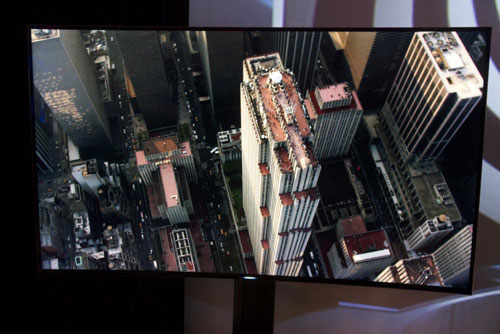 Curved televisions are officially making a comeback, and not just with OLED – for the vast majority of consumers who buy them will still be staring at a good old LCD screen.
That prediction comes from TV industry analysts NPD DisplaySearch, whose latest Quarterly TV Design and Features Report finds that the trend towards curvy screens is no longer limited to the flashiest of flash TVs. Curved televisions are set to be everywhere in the next few years, with shipments likely to reach 800,000 units by the end of this year, before rocketing to 6 million units by the end of 2017.
This sudden trend for curvier screens comes in response to miserable TV sales over the last few years, with NPD DisplaySearch noting that global TV revenues have slumped dramatically since peaking in 2011. As such, curvy screens are just the latest gimmick by TV makers to try and boost sales, along with the more obvious hi-tech OLED and 4K Ultra HD TV designs that are unfortunately, way too expensive for most of us.
Curved TVs first hit the headlines last year, when LG and Samsung both announced curvy OLEDs, claiming that the design served to improve viewing angles and make the content appear less blurry at the edges of the screen. Those claims are debatable, but that hasn't stopped TV makers from pursuing this latest gimmick. At CES 2014 back in January, we saw dozens more curved TVs unveiled, by Samsung, LG and a raft of Chinese telly makers, including a bunch of regular LCD models for the first time.
With this sudden explosion of interest in curved screens it's inevitable that LCDs will soon outsell OLEDs sporting the same design, as NPD DisplaySearch's estimates reveal. According to the market research firm, they're expecting around 700,000 curved LCDs to ship by the end of this year, compared to a maximum of just 100,000 OLEDs – which means at least seven times more LCDs than OLEDs.
However, the trend towards curved displays isn't one that's likely to last, according to Paul Gray, NPD DisplaySearch's European TV research director, who noted:
"The novelty of curved screens is expected to wear off with time, leading to shipments peaking and then tailing off."

"Brands are not staking their futures only in curved screens or any other single feature, but are instead exploring a whole mix of features to attract television buyers."
One of the reasons curved OLED sales will trail those of LCD models is that manufacturers are still having massive problems making the damn things. NPD DisplaySearch's report notes that companies like LG and Samsung "still face significant manufacturing problems," which means we're unlikely to see a million-plus OLED shipments until 2016 at the earliest.
Source: NPD DisplaySearch