Last week saw flat panel manufacturer LG Display post its quarterly results for the final three months of 2011. The figures revealed that the company had seen its second straight quarterly net loss resulting from weak demand for large-screen HDTV displays, which has stemmed from the ongoing difficult financial climate. The drop in demand for larger TVs also saw LCD manufacturers cutting production of panels last year.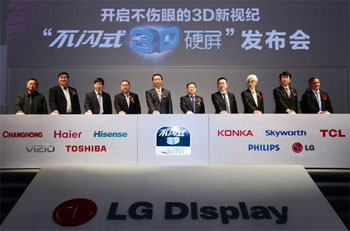 Demand for 3D LCD panels helps LG Display shrink losses
However, although LG's figures showed another net loss for the quarter, the Korean TV maker – globally the second largest producer of LCDs in terms of sales – said that the net loss for the fourth quarter of last year had narrowed sharply compared to the final quarter of the previous year. Net losses for the final quarter of 2011 stood at around 6.25 billion won (around £3.54 million) compared to 268.4 billion won (approximately £152 million) in the same period of 2010.
It is thought that part of the reason behind the encouraging reduction in net losses is the demand for LG's polarized LCD panels used in passive 3D TVs, as well as those used in mobile gadgets. The company supplies screens for the likes of Apple for the latter's iPhone and iPad devices, and is said to be relying on higher demand for specialty products to help counteract the tepid demand for conventional LCD televisions.
With interest in 3DTVs on the rise due to increased and improved extra-dimensional content, along with ongoing demand for smartphones and internet tablets, LG hopes to see its profits boosted, allowing the firm to take on cross-town rival Samsung Electronics who is the leading producer of LCDs by sales. Kang Yoon Hum, an analyst from NH Investment & Securities, said that such products are making a big contribution to earnings, adding that the trend is set to continue.