Disney is a company that has continually embraced technological changes in the broadcast TV and media entertainment industry. Besides striking a deal that would provide programming from their Disney Channel, ESPN and ABC networks to Yahoo internet-connected televisions, The Walt Disney Company have announced that they would deliver, at minimum, fifteen 3D Blu-Ray movies in 2011.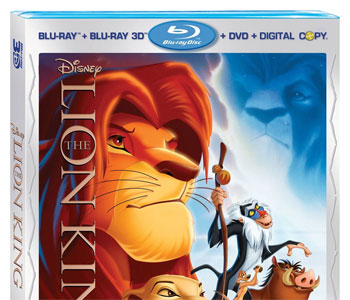 More than three million 3D TV displays were sold worldwide last year, and if you pay any attention at all to the HDTV industry, you can see that 3D technology is not going anywhere soon judging from the amount of investment (both in terms of R&D and marketing) TV manufacturers and content providers have poured into this latest trend. In a recent report published by market research firm DisplaySearch, 3D TV shipments are expected to grow to more than 90 million units by the year 2014, though currently the generic paucity of 3D content remains a major hindrance to mass market penetration of 3D television sets among the public.
Now, Disney have expressed their intention to bolster this limited pool of 3D content by delivering at least 3D Blu-Ray movies for consumers this year. Some of the titles that were mentioned in the press release include the recently released Tron: Legacy, Beauty and The Beast, Tim Burton's The Nightmare Before Christmas and Tangled. While Disney rarely re-release their cartoon films, they have hinted that they will be opening up the vault to perform some 3D enhancements to several of their most popular titles.
Other Disney titles that will also see a Blu-Ray 3D release this year include The Lion King, Meet the Robinsons, Chicken Little, Bolt and G-Force, among others. Although there was no mention of the beloved Toy Story animated series, you can bet that at least one of them will be added to the list by the end of this year, with the most likely being the latest Toy Story 3 which was critically acclaimed when it came out in 2010.