The Wall Street Journal has uncovered plans between Disney and Yahoo to deliver video content to the Yahoo TV platform that has gained so much attention in recent weeks. The Walt Disney Company is reportedly looking to create widgets for the internet TV software that would allow users to stream content from their Disney Channel, ESPN, and ABC programming to HDTV sets that are connected to Yahoo Internet.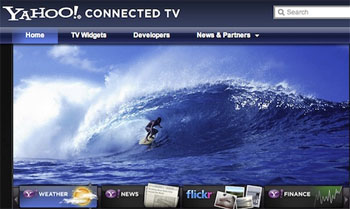 Disney has previously made similar deals to this, including bringing an ESPN app to XBox Live users on the Microsoft XBox 360, granting subscribers access to whatever was available on the popular ESPN3.com website. The video content delivered included live games that were broadcast on ESPN or ESPN partner networks.
The widgets that will be added to the program will reportedly be free to consumers who already have the internet-connected Yahoo TV service. This is great news for those who were already planning on investing in Yahoo-Internet-enabled HDTVs.
With so many consumer electronics manufacturers looking to release their own internet-connected TV solutions, many have had problems securing content to provide to the end user. Disney has made it clear that they are going to embrace these devices by allowing their content to be shared for free. In the case of the XBox 360, their ESPN application has been a huge success. Their widgets for the Yahoo! Connected TV portal represent a slightly different approach, but should gain similar reception among the public.
It remains to be seen whether other major content providers will jump on the IPTV (internet-protocol television) bandwagon, and offer up their own shows for free. Keep in mind, Disney was already making a large amount of this content available through ESPN 3, a website that streams previous highlights, live events and past events on demand.
Source: Wall Street Journal