The Digital Television Group (DTG) has just held what it claims is the world's first 4K UHD (ultra high-definition) TV "product testing zoo" to try and establish which types of 4K hardware are compatible with one another.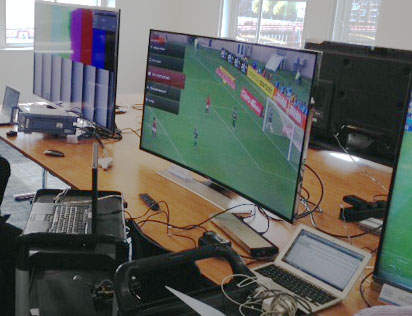 The invitation-only event saw the testers hook up twelve different 4K displays with various bits of 4K hardware, including upscaling Blu-ray players, set-top boxes, an AV receiver and other bits of 4K testing gear to see how well they performed together.
Unfortunately DTG hasn't revealed exactly what TVs or equipment was used, other than to say that all of the televisions tested are available to buy in UK retail stores. That's because the point of the test isn't to laud the best performing manufacturers or shame those whose gear leaves something to be desired, but rather to use the findings to try and establish common standards and specifications for the technology. As for the testing tools, these were supplied by Rohde & Schwarz and Quantum Data.
"This event marks the beginning in a new era of testing facilities at the Digital TV Group and we look forward to further collaboration with industry to create a thriving 4K Ultra HD ecosystem in the UK," said DTG CTO Simon Gauntlett.
DTG has been keen to promote 4K TV in the UK for some time now, having set up the UK UHD Forum last year. As part of that effort, it brought the BBC and BSkyB (British Sky Broadcasting) onboard to try and agree on a common standard for 4K broadcasts.
Both the Beeb and Sky have expressed an interest in 4K, and have already carried out their first trials – last summer, the BBC teamed up with Sony to record three FIFA World Cup finals matches in 4K Ultra HD, while Sky's first Premier League football trials took place last year.
The DTG is planning a follow-up test in the near future, focusing on ultra high-definition image quality and HEVC support. That's important, because the first generation of 4K TVs are incompatible with the meagre amount of 4K content that's currently available from services like Netflix.
Manufacturers and content providers that wish to get in on the act can do so by contacting DTG directly.
Source: DTG Group