The first Dolby Vision 4K Ultra HD Blu-rays appeared to have broken cover, and they are the Despicable Me and Despicable Me 2 animated movies from Universal Studios. A Dolby Vision logo was spotted on the back cover artwork of the discs by an eagle-eyed Blu-ray.com member, with the main feature description stating "UHD Dolby Vision/ HDR10 1.85:1 Widescreen".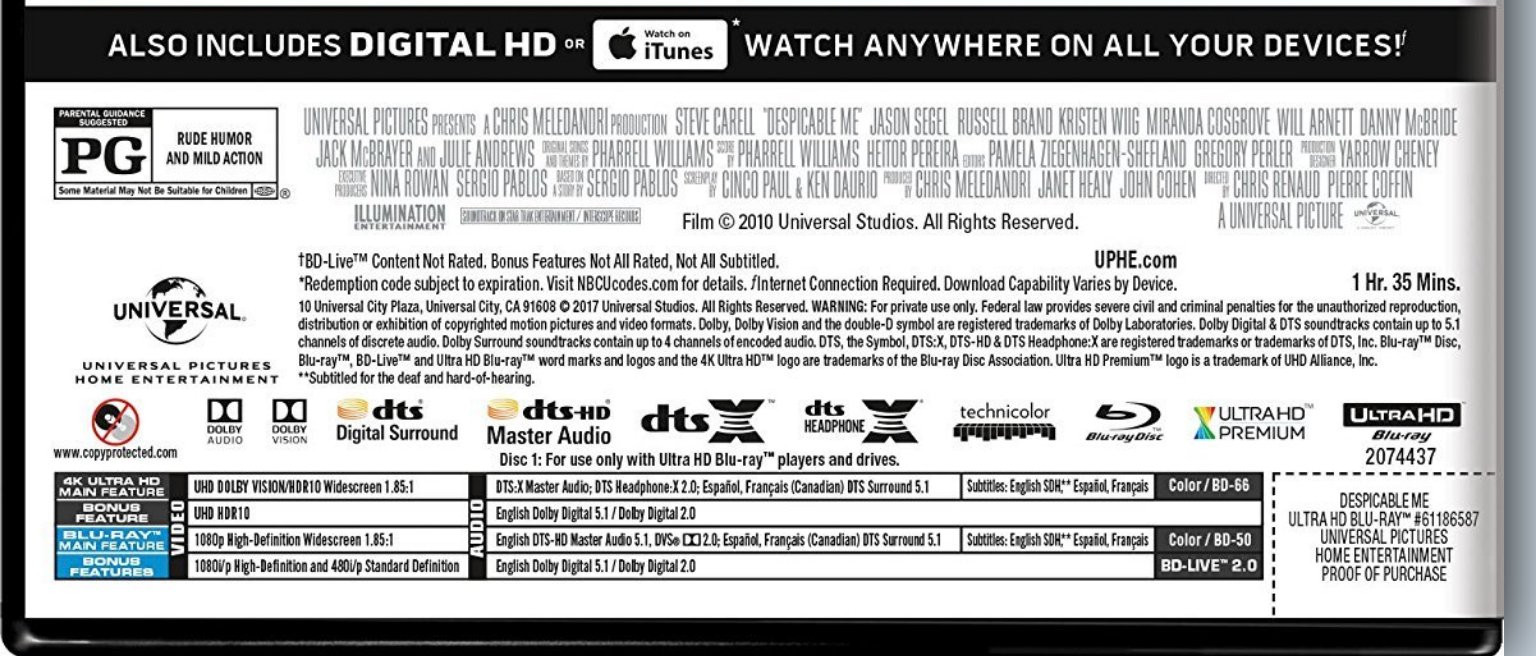 If true, this makes them the first confirmed 4K Blu-ray titles to support Dolby Vision (DV). To date, all Ultra HD Blu-rays available to buy on the market are only compatible with the open-standard HDR10 format. To clarify, the Dolby Vision metadata will be embedded as an enhanced layer on top of the base HDR10 layer on these Despicable Me discs, so even if you don't own a Dolby Vision-capable 4K Blu-ray player or HDR TV, you can still watch them in HDR10 ultra-high-definition (UHD) resolution.
However, in theory Dolby Vision should offer a superior HDR presentation especially on lesser displays owing to the use of dynamic metadata, which is why many video enthusiasts are clamouring for Dolby Vision content and hardware. We did an indepth comparison of Dolby Vision versus HDR10 on a 2016 LG OLED TV, and thought the former to be better, but felt the advantages shrunk significantly on more capable TVs (specifically top-tier full-array local dimming LED LCDs with peak brightness above 1000 nits). That said, buying a high-end television in 2017 will likely become a tick-box exercise, with prospective buyers thinking twice before spending if Dolby Vision is absent.
Despicable Me and Despicable Me 2 are scheduled for release on the 6th of June 2017. LG's 2016 and 2017 OLEDs already support Dolby Vision out of the box, and Sony's ZD9/ Z9D, XE93/ XE94 and A1 OLED will hopefully receive DV firmware updates by then too. In terms of players, the LG UP970 and the OPPO 203 are two we know will bring Dolby Vision compatibility following software upgrades.
Source: Blu-ray.com forum via RayHahn1 on Twitter