British Sky Broadcasting (BSkyB) has started rolling out its newly-designed EPG (electronic programme guide) on Sky+HD set-top boxes in the United Kingdom. Tens of thousands of Sky subscribers will be able to access the revamped EPG from today, with millions more set to benefit from the gradual rollout before 2012 comes to an end.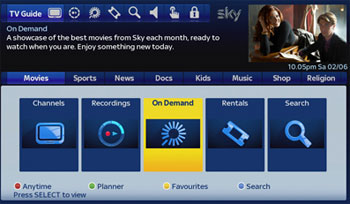 BSkyB rolls out new EPG for Sky+HD set-top boxes
The fresh design incorporates Sky Anytime+ programmes on the landing page for each genre, tipping a hat towards the growing popularity of on-demand viewing among customers of the digital satellite TV broadcaster. Last month, five million Sky+ HD households were able to enjoy the company's Anytime Plus video-on-demand (VoD) service, after BSkyB opened it up to be accessible through any broadband internet provider.
Viewers can now see all the choices available to them with a glance at the landing page for a specific genre, allowing them to mull over the different options in a quick and convenient way. For example, Sky Movies subscribers will be able to choose between watching films that are live, recorded (via Sky Plus Planner), on-demand (through Sky+ Anytime) or rented from Sky Store, all from a single page which also features search functionality.
Other EPG improvements include full HD graphical user interface (GUI) to complement the company's HDTV content, the ability to sort recorded shows in the Sky+ Planner by genre instead of chronologically, as well as an expansion in the number of channels displayed per page from six to eight.
BSkyB involved a panel of Sky customers in the development of the new EPG over the past few months, whose constructive ideas and feedback influenced the final design. According to BSkyB's TV brand director Luke Bradley-Jones, on average Sky television subscribers access the EPG over 1.2 billion times in total every month, which is why the firm strives to provide an easy-to-use, intuitive EPG to help customers maximise the value of their subscription.
Source: Sky Corporate Blog