Panasonic has unveiled the world's first 4K HDR OLED TV with professional-grade video processing at the CES 2017 consumer electronics trade show in Las Vegas this week. The Viera EZ1000 (or EZ1002 in the UK) will be the company's second OLED television after its inaugural CZ950/ CZ952 which was released in late 2015.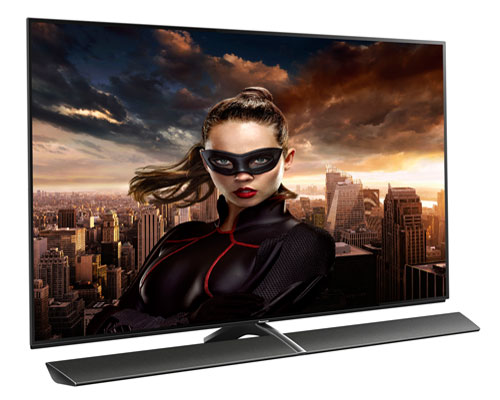 Unlike its curved predecessor, the Panasonic TX-65EZ1000 will use a flat WRGB OLED panel supplied by LG Display, though both displays will share the one singular screen size of 65 inches. Taking a leaf out of Sony's ZD9 launch playbook, Panasonic refused to disclose the exact peak luminance and colour gamut coverage on the EZ1000, merely stating that it will deliver "around double the peak brightness of a conventional OLED" and "almost the full DCI colour space". If we were a betting person (hey we're in Vegas after all), we'd put money on a peak brightness between 800 and 1000 nits, and 98-99% DCI-P3 coverage.
Update: According to a presentation slide at the launch event, the EZ1000's peak brightness will be around 800 nits (likely the peak luminance of all OLEDs using LG Display's 2017 WRGB OLED panel), with almost 100% DCI-P3 coverage.
The new "Master HDR OLED" panel will be joined by an "Absolute Black Filter" that not only soaks up ambient light and reflections to reduce glare, but also eradicates the reddish blacks which can affect some OLED TVs in bright rooms. We've been very impressed with the anti-reflective filter on the now-defunct Panasonic ZT plasma, and so can't wait to see how the version implemented on the TX65EZ1000 will perform.
Another aspect which has consistently blown us away on Panasonic Vieras in recent years is their excellent colour accuracy, and the Japanese manufacturer is looking to step things up a notch on the EZ1000 via several avenues. First is a Studio Colour HCX2 video processor – the most powerful from Panasonic on a consumer television yet – which provides unrivalled "Delta Zero" accuracy through 3D LUT (look-up tables) similar to those used by Panasonic's professional filmmaking and broadcast monitor arm.
Furthermore, professional users can even upload their own 3D LUTs by SD card/ USB stick. And when you consider Panasonic's continued finetuning collaboration with Hollywood colourist Mike Sowa, the company's own Hollywood Lab experience, and integrated DDC (direct display controls) for ISF calibration, it's unlikely we'll see another OLED TV that can present the director's creative intent with more accuracy. THX and Ultra HD Premium certifications are being applied for.
OLED's self-emissive display characteristics lend itself to true blacks, but LG OLEDs to date have had a tendency to either render the shades just above black with more noise and blockiness, or crush shadow detail however slight. Panasonic aims to tackle this through its HCX2 processor, drawing upon its know-how and experience with plasma to compensate for the relatively large "jump" between OLED's off (zero black) and on (above black) states for the clearest and cleanest reproduction of detail in dark scenes.
The Panasonic EZ1002/ EZ1000 will support HDR10 PQ (perceptual quantisation) standard for Ultra HD Blu-ray playback, HLG (Hybrid Log-Gamma) for HDR broadcast, 4K HDR streaming from Netflix, Amazon and YouTube, but not Dolby Vision format since the company believes it knows its own panel and processing better than any other organisation. Like all other OLED TVs to be released in 2017, the TX-65EZ1002/ TX-65EZ1000 won't have 3D capability.
To complement the class-leading picture quality, Panasonic has roped in sound engineers from acclaimed audio brand Technics to help develop a new Dynamic Blade Speaker for the EZ1000. Taking the form of a soundbar stand spanning the entire width of the screen (again), the Dynamic Blade Speaker is a deceptively slim audio system that houses 14 speaker units including 8 woofers, 4 squawkers and 2 tweeters, plus a quad passive radiator to enhance bass.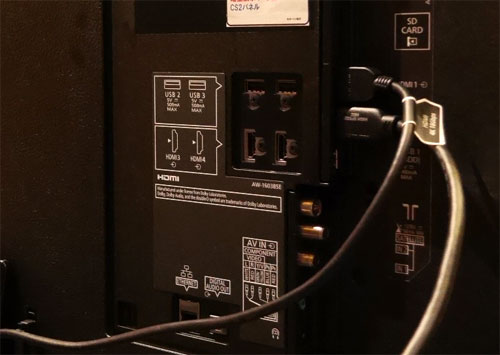 Other features include a "floating" design, dark metallic finish, a newly developed My Home Screen 2.0 Smart TV system, a revamped Media Player app supporting 4K HDR10 and HLG content, Freeview Play for the British TX-65EZ1002B model, as well as IP>TV tech (to convert broadcasts into data streamable to other devices) on continental models. Control4 and Crestron certifications are pending.
The 65in Panasonic EZ1000 will be available in Europe from end of May 2017, although there's currently no plan to release the 4K OLED TV in North America. The company hasn't decided on a launch price yet.