Anyone remember those old Finlux TVs? Some readers might recall that the brand, which was owned by Nokia, saw a reasonable amount of success back in the 1990s with its unique televisions boasting things like inbuilt satellite receivers and other goodies. The quality of their TVs was generally decent, and although the brand never really took off it did develop a small fan base in the UK.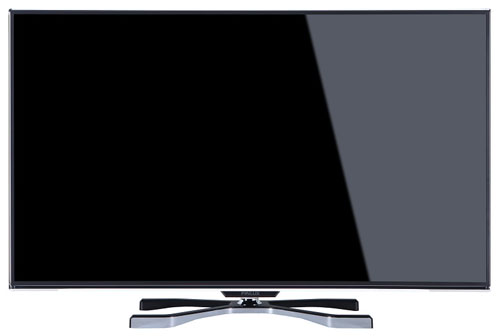 Finlux unveils 55S9100-T Smart TV, only available online
Well, the good news is that Finlux is back, and this time it's bigger and better than ever before, offering a range of large display Smart TVs that are only available to buy online, something that allows them to significantly undercut the prices of established brands. Finlux Direct, as the company is now called, is owned by Vestel Group, a Turkish company that's become a big name for household electronics in Europe.
This week, Finlux has been displaying its latest wares at the Gadget Show Live at the Birmingham NEC, impressing dozens of onlookers with its LED Smart TVs that incorporate passive 3D tech.  Available in 55-inch, 47-inch and 42-inch sizes, the Finlux 55S9100-T offers dozens of smart features including Wi-Fi connectivity that gives users access to apps like Netflix and the BBC iPlayer, as well as sites like YouTube and Facebook.
Other features of the Finlux 55S9100-T include built-in Freeview HD and PVR functionality, and eight pairs of free, 3D glasses for enjoying the passive 3D display technology it boasts. The display features 100Hz motion processing to keep the action flowing smoothly, while connectivity options include four HDMI ports, plus compatibility with the iPhone and iPad, meaning your iOS device can substitute as a second screen/remote control. Meanwhile the design is something reminiscent of Samsung's latest Smart TV range, with a chrome base and super-narrow 1cm bezel.
Finlux's decision to sell the 55S9100-T exclusively online is a bonus for consumers, who'll be able to get their hands on the 55-inch model for the very reasonable price of just £1,299. Meanwhile, the 47-inch model ships for just £799, while the 42-inch variety can be had for as little as £599.
The Finlux 55S9100-T TV range is available to pre-order now on the Finlux Direct website, with an official release date penciled in for the 15th April.
Source: TechDigest and Finlux Direct