According to the most recent update to the Global TV Replacement Study published annually by market intelligence firm NPD DisplaySearch, the worldwide television replacement cycle has shrunk from 8.4 to 6.9 years over the last twelve months. Several factors were put forward by the report to account for this, including lower prices, more screen size choices, as well as a thirst for the latest display technologies – ranging from HDTV resolution to 3D capabilities – among consumers around the world.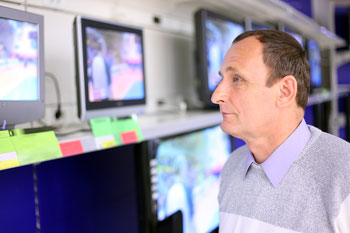 Flat panel upgrades cut TV replacement cycle to 7 years
The research tracked consumers' intent to buy new TVs in fourteen markets, including the UK, the USA, France, Germany, Italy, Japan, China (split into rural and urban areas), Brazil, India and Russia. It was revealed that 31 percent of households plan to replace an existing television set over the next year, whereas 22 percent intend to purchase an additional TV during the same period.
In almost every country analysed, the most important reason given by consumers to replace their current televisions is getting a bigger-sized screen. This was followed by a desire to upgrade to a flat-panel display with better image quality. Price was found by the study to weigh heavily in potential buyers' decision to take the plunge, even though it did not make it into the top three reasons cited by consumers who replaced their existing TVs.
Despite being marketed heavily by TV makers and retailers, 3D functionality and internet connectivity were described as only weak motivators for consumers to upgrade their old TV sets. Clearly, these advanced features were not as important as manufacturers would like them to be in influencing a buyer's choice of new television.
NPD DisplaySearch research director Riddhi Patel said that on a global scale the majority of homes are ditching CRTs in favour of flat-screen TVs, although in mature markets such as the United Kingdom and the US, consumers are replacing their first-generation flat panels. She added that there is plenty of scope for growth, since most emerging markets still have some way to go before all CRT televisions are replaced by flat screens.
Source: DisplaySearch