With just over a month to go before the Consumer Electronics Show (CES) rolls around again, the latest rumours have it that Korean TV manufacturers Samsung and LG Electronics are planning to unveil something truly awesome – the world's first flexible TVs that can be remotely 'bent' by viewers to get the best possible viewing angle.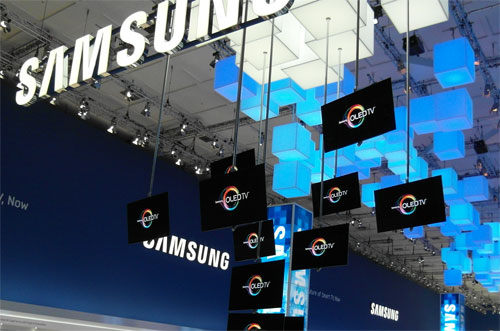 The Korea Times reports that both LG and Samsung will unveil prototypes of their flexible televisions during the CES show at the Las Vegas Convention Center, which runs from the 7th to the 10th of January next year.
Details of the TVs' specifications are scant at the moment, but officials from both companies told the Korea Times that the rumours are true.
"Our key partners, which obviously includes Samsung Display, are supplying all the parts we need," said a Samsung official to the Korea Times. "But it's not clear yet if the prototype will be displayed privately to major clients in closed meetings, or if it will go on display at the Samsung booth."
The unnamed source added that Samsung's flexible television would likely use plastic-based OLED technology, together with a back panel that's able to manipulate the screen.
Meanwhile, LG promises that its flexible TV can be bent by remote control. Speaking to the Korea Times, an LG spokesperson said that the company is planning to "promote something new", and will also "unveil a remote, bendable OLED TV that hasn't been seen before".
In both cases, the Korea Times says that the flexible TVs will be programmed with special software that's able to adjust the on-screen images so that the picture will not be distorted.
That LG and Samsung would produce flexible TV displays isn't such a surprise – we've heard rumours of them before, and it was only last May that Samsung was actually granted a patent for a flexible OLED TV by the US Patent and Trademark Office (USPTO). More recently, both companies began mass producing smaller OLED displays for tablets and smartphones. Subsequently, both companies have released flexible smartphone devices, namely the G Flex and the Galaxy Round. Furthermore, it was only at last year's CES that we got to see the world's first curved OLED TVs – and so making these 'flexible' seems like a natural progression that both companies would want to pursue.
However, while we'll hopefully catch a glimpse of the prototypes on display at CES 2014, analysts warn that it could be some time before we see them in the shops. According to the Korea Times, neither company possesses the ability to mass produce flexible OLED displays, a technology that is still "two steps ahead of mainstream TV technology" at present.
Source: The Korea Times