A prehistoric documentary filmed entirely in 3D by Sky in association with Atlantic Productions has made history at this year's BAFTA awards. Presented by the world's most famous naturalist and broadcaster Sir David Attenborough, Flying Monsters 3D not only became the first stereoscopic 3D programme to be nominated for a BAFTA award (best specialist factual programme), but also walked away with the prize.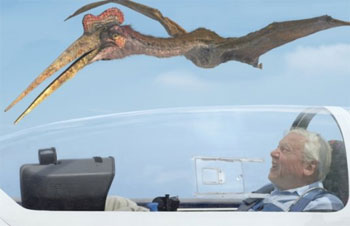 The programme, which premiered on the Sky 3D channel last Christmas, provides an insight into the life of pterosaurs: prehistoric flying reptiles whose wings spanned up to 40 feet (or the equal of a modern fighter jet), and were different from dinosaurs according to Sir Attenborough. Flying Monster 3D's momentous win at the BAFTAs is without doubt a wonderful achievement for the visionary collaboration between satellite TV broadcaster British Sky Broadcasting (BSkyB) and factual production company Atlantic Productions.
Commenting on the win on his corporate blog, Sky 3D's director John Cassy hoped that the groundbreaking recognition received for a 3D programme would spur further interests in three-dimensional display technology among content providers, broadcasters and HDTV manufacturers. He also attempted to draw parallels between Sky's current 3D push and the company's early investment into high-def television which helped the company become the market leader in the high definition arena, with over fifty channels available on its Sky HD platform.
Scooping the BAFTA award meant that Sir David Attenborough's works have been recognised in black and white, colour, HD and 3D, which is a testament to the wildlife filmmaker's willingness to experiment with cutting-edge broadcast technology throughout his career. He is currently filming Penguins 3D which is expected to be screened this Christmas on Sky 3D.
Source: Sky Views