Freesat, the British free-to-air (FTA) digital satellite TV service co-founded by BBC and ITV, is set to stage a comeback in the subscription-free HD broadcast arena, following a series of positive announcements over the past week. One that will surely go down well with existing customers is the long-overdue arrival of Channel 4's high-definition simulcast channel C4 HD on the platform come April.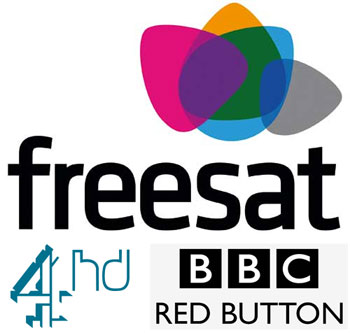 Freesat's growth has been stunted somewhat since the launch of Freeview HD last year. While both high-def services do not charge any monthly subscription fee, generally speaking Freeview HD is more accessible for the UK public compared to Freesat, since the former can be received through existing roof-top aerials, whereas the latter requires the installation of a satellite dish. Also, most of the recent flat-screen HDTV sets available on the market are likely to have Freeview HD tuners built in. Unfortunately the same cannot be said on the Freesat front: TV manufacturers have restricted the incorporation of an integrated Freesat tuner to a only few selected models.
Of course, one scenario where Freesat would unquestionably trounce Freeview HD is in a geographical area with poor Freeview coverage. Even so, the FTA satellite TV platform offers only three high-def channels – BBC HD, BBC1 HD and ITV1 HD – to Freeview HD's four. That will soon change in April, with the launch of Channel 4 HD on Freesat levelling the playing field.
Last week also saw an upgrade to another crucial feature on the Freesat platform: its BBC Red Button interactive service now offers an expanded range of video content, rivalling the ones available on the Freeview, Sky and Virgin Media portals. Initially limited to only the BBC Sport Multiscreen at launch, Freesat viewers can start enjoying single-stream video services – such as Becoming Human (a new spinoff from Being Human), and extra footage from BBC2's latest comedy Episodes – via the Red Button on their HDTVs.
On Tuesday, the subscription-free digital television satellite service announced the addition of two new music channels in the shape of NME TV and Bliss. These favourable developments will not only help Freesat keep hold of its existing customer base, but also establish the platform as a strong alternative for those who cannot receive Freeview HD, and/or refuse to subscribe to Sky+HD.