Freesat, the UK free-to-air (FTA) digital satellite TV platform backed by BBC and ITV, has received a timely boost in terms of DVR (digital video recorder) support from hardware manufacturers. Korean conglomerate Samsung and American firm EchoStar have both unveiled personal video recorders (PVRs) equipped with Freesat HD tuners this week.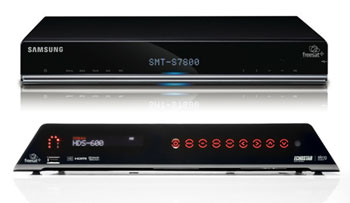 The Samsung SMT-S7800 is – surprisingly – the company's first venture into the United Kingdom's retail STB (set-top box) market. The integrated dual Freesat HD tuners allow viewers to watch one TV channel while recording another, whereas the Freesat+ functionality permits the pausing and rewinding of live television broadcasts. Storage-wise, the SMT-S7800 boasts a 500Gb hard disk drive, which is capable of recording up to 250 hours of standard-definition (SD) programmes, or 120 hours of high-definition content.
Other features include built-in wifi connectivity for wireless access to Freesat's on-demand media such as BBC iPlayer, YouTube, and the soon-to-be-implemented ITV player, as well as USB file sharing plus video, photo and music playback in DivX, XviD, AVI, JPEG, MP3 formats. Connections available around the back of the Samsung SMT-S7800 Freesat DVR are one HDMI port, 2 x SCARTs, composite, digital (SPDIF optical) and analogue audio outputs, and of course the mandatory ethernet interface.
The SMT-S7800 should be trickling into UK stores over the next couple of weeks, and will retail for £300. Having also deployed Freesat HD tuners on its newly released D7000 and D8000 3D LED-backlit LCD HDTV displays, Samsung seems to be holding true to its pledge to launch a range of Freesat-enabled devices, which should help the FTA satellite service compete better against other subscription-free (such as Freeview HD) or Pay TV (e.g. Sky and Virgin Media) platforms.
Further reinforcement to Freesat's cause has also arrived from an unlikely source. Earlier this week, EchoStar Europe has been demonstrating its Freesat-powered HDS-600RS digital TV recorder at the IP&TV World Forum in London. Like Samsung's offering, the EchoStar SlingLoaded HDS-600RS features twin Freesat tuners, 500Gb HDD storage, Freesat+ capabilities, and will cost around £300 too. In addition, the HDS-600RS is uniquely equipped with the company's proprietary place-shifting technology, allowing TV content to be streamed to mobile devices (like iPhone, iPad or Android smartphones) on which a separately-sold SlingPlayer app has been installed.