The Freeview HD movement is rapidly gathering pace, according to figures released by the UK's free-to-air (FTA) digital terrestrial television (DTT) platform. After analysing point-of-sale data supplied by retail market research company GfK, Freeview announced today that 1.2 million units of HDTVs and set-top boxes equipped with integrated Freeview HD tuners have been sold in the United Kingdom thus far.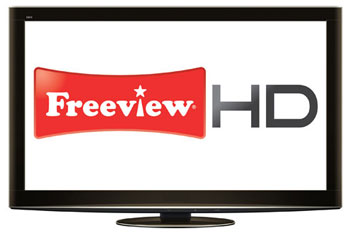 Given that the subscription-free high-definition digital TV service only launched officially on the 30th of March 2010, surpassing the million-sold mark in under ten months is a remarkable achievement in itself. The month of December provided a timely boost to the numbers, as the UK public splashed out on new HDTV sets during the festive shopping season (week-on-week sales surged 378% in the 7-day period following Christmas), partly to beat the impending VAT rise.
TVs which can receive Freeview HD natively made up 22% of iDTV (integrated digital television) sales in December last year. Not to be outdone, sales of Freeview HD set-top boxes (STBs) were on the up too, posting a 118% increase the week after Christmas. Freeview+HD recorders were particularly popular among consumers, outselling their non-PVR counterparts by two to one.
At present, the DTT platform estimates that 642,000 households around the UK are enjoying its Freeview HD service as a result of the 1.2 million units of compatible equipments sold. While this is overshadowed by the subscriber base of 3.5 million and 1.4 million respectively on the Sky+HD and the Virgin Media HD services, Freeview HD should have little trouble broadening its penetration in the high-def television broadcast market, as more and more consumers seek to watch HD content on their HDTV displays without needing to pay a subscription fee.
The Freeview HD platform currently delivers four high-definition channels – BBC HD, BBC1 HD, ITV HD and Channel 4 HD – in addition to a large selection of standard-definition programmes. By the end of next year, 98.5% of the UK should be able to receive the FTA high-def service if its rollout continues as planned.