It seems that everything is about fashion these days – no matter what we do or where we are doing it we want to look as hip and "with it" as possible. Of course, this is something that manufacturers and retailers have quickly caught onto, with the Korean technology giant LG Electronics being no exception.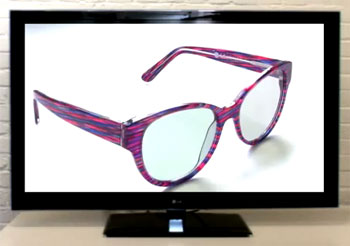 For those who want to look hip and cool even while watching the company's Cinema 3D TV, LG has brought out its new designer 3D glasses, which work via the same polarized lenses that are used in cinemas. The tri-dimensional eyewear has been launched as part of an exclusive joint venture with the British fashion designer Giles Deacon, who has become well known for his "bold and statement prints".
The designer 3D specs are both bold yet stylish, enabling viewers to bask in a touch of finesse when they are enjoying extra-dimensional content on LG's 3D-capable HDTV models. Whilst the person wearing the glasses may spend more time checking how cool they look in the mirror than they do watching their 3D movie or programme, the glasses are certain to attract impressed glances from other viewers in the room.
Giles Deacon, the designer involved with this project, said that the glasses were designed to reflect the innovative and exciting products that LG had become well known for. The 3D glasses are designed to be bold, colourful, trendy and "conversational". Deacon also said that he was inspired by technology, and that this project had given him a chance to delve further into the realms of cutting-edge innovation. LG's consumer marketing director Stephen Gater added that the 3D eyewear offered consumers an "ultra stylish" option with which to view their favourite 3D programming.
The 3D glasses – called the "Giles for LG" – are available as a limited edition, and can be purchased for £29.99 exclusively from Selfridges Oxford Street and online.