Flat screen TVs are selling rather better than anticipated, with Korean giants Samsung and LG Electronics once again leading the way with stronger-than-expected growth, according to a new report by market search firm IHS.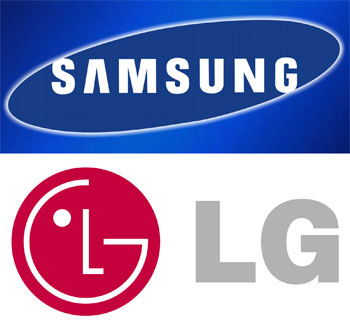 The analyst group said that LCD TVs were doing particularly well, with 47.36 million units sold from January to March of this year. That's a four percent rise from the year before, says IHS. The only flat spot in the flat-screen TV market was poor old plasma, with just two million units of the dying display tech sold in the first quarter, a 16 percent drop from the previous year. Overall though, 49.36 million flat screen televisions were shipped, three percent up from the year before.
This growth took IHS by surprise, leading the analysts to rethink their estimates and predict four percent growth in the LCD TV market by the end of 2014.
Samsung & LG Stay on Top
Not surprisingly, South Korean powerhouses Samsung and LG contributed to much of this growth, accounting for some 17 million units shipped between them. Japanese manufacturers performed rather well too, though surprisingly, Chinese brands did worse than expected in the quarter.
Samsung and LG have been leaders in the flat panel industry for some time now, and they once again achieved year-on-year growth of above ten percent, an industry-best performance. Much of their success is down to LCD's dominance of the flat-screen television market – both firms are committing themselves to high-definition (and ultra high-definition) LED LCDs that are more in fitting with consumer's tastes. IHS says that virtually all Samsung and LG TVs in the 40-inch and above range are now HD models.
Japan's success was in part due to manufacturers boosting shipments ahead of an expected increase in sales consumption tax. That increased tax rate has now been imposed, and so IHS warns that flat panel shipments from Japan may slip in the second quarter.
Chinese brands will be far from happy with their performances however. Each month of the first quarter saw shipments fall compared to the previous year, something IHS blames on a government decision to end subsidies for energy-efficient products. To turn things around, Chinese manufacturers are attempting to woo buyers with low cost 4K, OLED and curved TVs, though it remains to be seen if these gimmicks will bolster the market.
Source: IHS Technology