There has been a significant fall in the growth of global television sales during the first quarter of this year, with the combined shipments of CRT, rear-projection, OLED, LCD and plasma TVs increasing by just 1% year on year, according to the latest data published by California-based market research firm DisplaySearch. In particular, unit growth for LCD televisions has now fallen to single digits, with shipments growth slowing down to a record low of 9% through this period.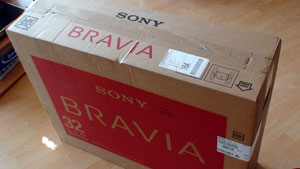 It is thought that the reason behind the fall in unit growth is due to over-shipments in the final quarter of last year when the number of TV units shipped by far outweighed demand. This left many regions with an inventory spillover following the holiday season, and has impacted on the results for the early part of 2011.
The figures have come from the recent Quarterly Global TV Shipment and Forecast Report from DisplaySearch. On a quarter-on-quarter basis total television shipments fell by 29%, down to 55.2 million. This dip was sharper than the typical decline seen for the period following a 15% year-on-year shipment increase in the final quarter of 2010.
Global results were also affected by a significant slowdown in growth in Japan, which followed huge surges in 2009 and 2010 due to a government initiative known as Eco-Points. Sluggish TV sales in mature markets such as North America and Western Europe, and even emerging countries like China also took its toll on the most recent figures for Q1'11.
Hisakazu Torii, Vice President of TV Research at DisplaySearch, explained that as the global TV market had started to recover from the recession and financial crisis, manufacturers and retailers had been lowering prices to grab more market share. While this initially boosted demand, the situation soon became unprofitable for TV makers and retailers alike. As a countermeasure, advanced features like LED backlight, 3D capabilities and internet connectivity were introduced on new HDTV models, which put the brakes on price declines, but unfortunately also reduced demand from consumers.