Google caused a few surprises at its special event this week, where its expected Nexus 7 tablet finally reared its head, alongside something completely different that almost no one was expecting – Chromecast.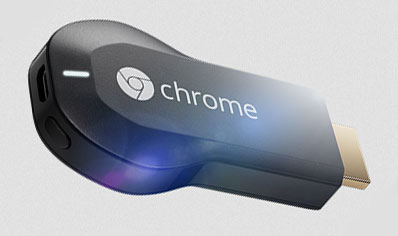 What the hell's Chromecast you ask? Why, this might just be an Apple TV beater, that's what it is. A tiny little dongle that plugs directly into the HDMI port on almost any HDTV these days, it lets you wirelessly stream a ton of content over the web using just about any mobile device for a remote. But it gets even better than that – it's damn cheap too, priced at just $35 in the USA.
Could this be the gamechanger Google's been waiting for? It's fair to say that television is one of the few areas that Google has struggled to penetrate. Google TV basically flopped, while its proposed Nexus Q streaming device was dead and buried before it left the production line.
In contrast Apple has been spectacularly successful with its Apple TV (here's our review). No doubt boosted in part by the legions of fanbois, it's sold somewhere in the region of 13 million devices, according to CEO Tim Cook's claims earlier this year. Another player – Roku – has also done pretty well with its low-cost media boxes, selling upwards of five million units in the US.
But now Google has Chromecast, and with the super-low $35 price tag it has every chance of competing with Apple and Roku, and it could even be a threat to consoles like the PS4 and Xbox One. The approach Google has taken is unique – similar in some ways to iOS's Airplay feature, which allows you to 'cast' various channels like Netflix and YouTube directly to your TV from your mobile device. Chromecast is a little different though, because it doesn't rely on the mobile device to stream that content for you. Instead, your mobile is literally just a controller, while Chromecast does all the legwork by itself.
Google's biggest advantages here are compatibility and price. Chromecast can work on just about any modern era TV, and pretty much everyone can afford one. But Apple's meatier TV box does have some advantages, including its ability to connect via an ethernet connection, which means that the stream will likely be faster and more stable. In addition, Apple has a big head start where content is concerned, thanks to all the deals it's tied up with various networks over the years. In contrast, Chromecast can only stream content from YouTube, Netflix and Google Play, though it's likely that more services will be added over time.
Apple TV has always been fairly affordable, as have Roku's boxes, especially when we consider the value they deliver. But affordable isn't the same as dirt cheap, which sums up the Chromecast pretty damn well. We can see more than few impulse buys being made when it finally lands up in the UK, and as it slowly adds more content services, Apple and Roku will be looking nervously over their shoulders.