Music, movies and television shows – all of this is set to land on the Google TV platform this week. For those who own a Google TV set-top box – admittedly, probably not too many – they'll be able to download all of their favourite movies, tunes and telly programmes as of tomorrow (13 November).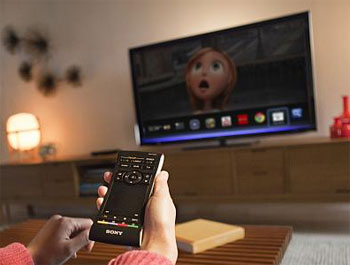 Google Play Music & Movies coming to UK's Google TV
According to Google, this monumental update to its previously limited smart TV service will be made available via the Google Play Store, and will be rolled out to viewers in the United Kingdom, France and Germany first of all.
Google TV is a relatively new service for UK viewers of course – it only arrived in June 2012 with the release of Sony's NSZ-GS7 Internet Media Player, which of course, is powered by Google's software. The service is similar in that respect to Android, with Google providing the software whilst relying on other brands to deliver the hardware.
With the new update, Google TV actually becomes worth looking at as a home entertainment platform. When it was first released, many couldn't help but feel disappointed, with the service lacking basic necessities like being able to rent movies and buy audio tracks. Admittedly this wasn't all Google's fault, given the complications with licensing rights etc, but perhaps they would have been better off waiting till now?
Still, this is where we are now, and with the new availability of films and songs, Google TV has suddenly become a much more viable option. What's more, with the arrival of Google's cheap line of Android-powered Nexus tablets, the two products may even complement each other quite nicely, with second-screen and remote control apps surely just around the corner.
It's probably worth mentioning a few other things Google TV has going for it, such as its Chrome browser which gives users an authentic web browsing experience. In addition, it also comes with a handy, double-sided remote control, with a QWERTY keyboard on one side and a D-pad, trackpad, menu, home and back buttons on the other.
Source: Google TV Google+ post