YouTube, the online video portal owned by search engine giant Google, has this week rolled out its over-the-web movie rental service in the United Kingdom. This marks the first time the service is made available outside North America, following launches in the USA and Canada back in May and September respectively.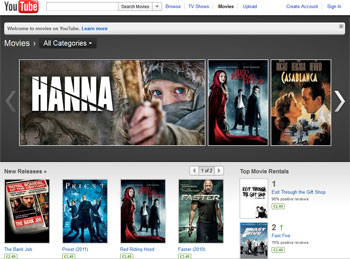 Google rolls out YouTube online movie rental service in the UK
Film lovers will be able to rent thousands of full-length movies, ranging from new releases like Fast Five and Hanna to established blockbusters such as Reservoir Dogs and The Dark Knight. Fans of British movies are catered for too, with titles including Lock, Stock and Two Smoking Barrels and Monty Python's The Meaning of Life easily accessible through YouTube's online library.
It costs either £2.49 or £3.49 to rent a film, with the higher price generally reserved for newer releases. If the instant streaming option is not chosen, users are given thirty days to watch a movie once it is downloaded, and 48 hours to complete the viewing once the "Play" button is clicked (although within this timeframe you can cram in as many viewings as you want). Some movies – the most notable being Wild Things – are available to watch for free, presumably to give viewers a taste of what to expect when they use the film rental service from YouTube.
The rented movies on YouTube are delivered in 480p – roughly equivalent to standard-definition DVD quality – for consumption on PCs, Google TV, Android tablets and smartphones, or a HDTV connected to a Motorola Xoom's HDMI port. Whether HD versions will be offered in the future remains unknown, but Google plans to expand the YouTube Movie Extras feature containing free behind-the-scenes videos, parodies, cast interviews, remixes, and related clips from the YouTube community.