Chinese manufacturer Haier has showed its hand just before the Consumer Electronics Show (CES) 2014 officially kicks off in Las Vegas in less than 24 hours. The company has announced its new lineup of televisions for the year ahead, including some curved OLED TVs, as well as several 4K ultra high-definition (UHD) displays, one of which is an autostereoscopic version that offers glasses-free 3D.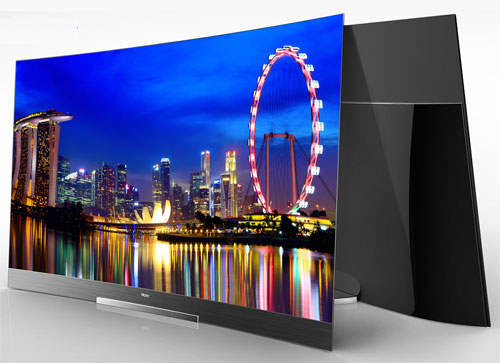 Haier had previously exhibited a 55-inch flat-panel OLED TV prototype at the IFA 2013 trade show in Berlin, but the new models will be – yes, you've guessed it – curved. Available in two screen sizes of 55″ and 65″, the OLED TVs will feature a native resolution of 1080p rather than 4K Ultra HD, and a super-slim design. If we're to hazard a guess, the underlying panel came from from LG Display who has recently supplied its WRGB OLED panels to another Chinese TV maker Skyworth.

We're not sure if these Haier curved OLED televisions will ever reach these shores, but as far as we (and all video enthusiasts) are concerned, any additional models beyond those offered by Korean conglomerates Samsung and LG Electronics should bode well for the future of the highly anticipated display technology which has suffered repeated launch delays due to low production yields. Also, there's the matter of price – we certainly hope greater competition from China will eventually bring the prices of OLED TVs down to more affordable levels.
The company will also showcase its array of 4K Ultra HD televisions at this year's CES, spearheaded by the H9000 series which features a native screen resolution of 3840×2160, edge LED backlighting, active 3D capability, HDMI 2.0 support, and inbuilt HEVC/ H.265 compatibility. Three screen sizes are available, namely the 50in Haier LD50H9000, the 58in LD58H9000 and the 65in LD65H9000.
There's also mention of a 50-inch 4K UHD prototype that delivers a glasses-free 3D experience with 140° viewing angle using the Ultra-D autostereoscopic technology from Stream TV Networks. We'll be sure to check all these Haier TVs out when its show booth opens for CES 2014, and bring you some more photos and eyes-on impressions.