According to a recent forecast, mainstream success is not expected for 3D TV over the coming years, despite a high proportion of active users seen last year. The figures were released by London-based market research and consulting firm Informa Telecoms & Media this week in a report titled "Global 3D TV Forecasts: 2nd Edition" which claims that the proportion of people with 3D-ready television sets who will actively watch 3D content will fall over the next few years.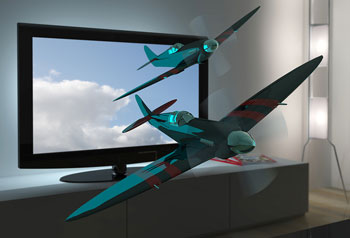 The figures show that in 2010 almost 90% of people with 3D-ready TVs were classed as being "active" users. This was because many of them had actually been out and purchased 3D televisions for the specific purpose of being able to watch 3D material, and were therefore more likely to sign up for services offering extra-dimensional content. Some operators were also offering 3D content for free to help the 3DTV market gain momentum, which would have helped to increase the number of active users.
However, the report claims that by 2016 the number of people in the UK who have 3D-ready televisions and are active and regular users of tri-dimensional content will have dropped to less than 50% out of eleven million 3DTV-equipped homes. This will be partly because 3D will increasingly form part of the default specifications of new HDTV sets that are being brought out, which means that whilst consumers may be going out to buy a new TV, they may not be buying it specifically for the 3D capabilities, and may actually have little or no interest in that particular display technology.
Adam Thomas, senior analyst at Informa and author of Global 3DTV Forecasts, said that 3DTV had received a mixed reaction from consumers despite the fact that it had the backing of huge corporations such as British Sky Broadcasting (BSkyB) and Virgin Media. He explained that this was due to a number of factors like a lack of content, and the fact that many users had simply found it difficult to get used to a new way of viewing content in the third dimension.