A recent survey carried out by market research firm YouGov found that of all the British users who own an internet-connected HDTV display, only slightly more than half – 53 percent to be precise – actually know what a Smart TV is (one that can connect directly to the web without the need for a separate external device), which reflects badly on the current state of the connected television industry in the UK.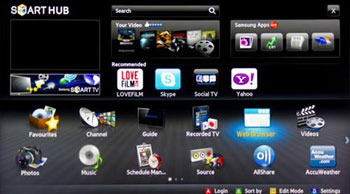 Nearly half of Smart TV owners don't know what it is
YouGov's research also revealed that of all the connected televisions that have been purchased so far, only a third have been bought for connectivity purposes, and as many as 25 percent of owners never even use their Smart TVs to access the internet.
The most popular reason for buying a Smart TV (given by 50 percent of those looking to purchase one) was purely to get a newer television according to the survey, effectively undermining the hyped-up importance of internet-connected TVs. It was also found that 89 percent of respondents with connected TVs considered the most important aspect of their Smart TV to be its sound quality, whilst 93 percent preferred the screen size, and a massive 96 percent deemed picture quality to be the number one factor.
When it came to the market share of Smart TVs among major brands, it was Sony that emerged top with 36 percent, closely followed by Samsung with 33 percent, and lagging further behind with 16 percent was Panasonic. Of the survey participants who intended to splash out on a new Smart TV, 62 percent indicated that they would go for a Samsung model, 48 percent would opt for a Sony display, 40 percent said they would buy a Panasonic, and finally 26 percent were planning to buy an Apple connected TV even though it has not even been officially launched by the Cupertino-headquartered technology giant yet.
One of the key concerns raised by YouGov is that TV makers are not looking at how to seamlessly combine the technologies implemented on their Smart TVs to deliver an involving user experience. Manufacturers are urged to understand the Unique Selling Points (USPs) of their Smart TV offerings before trying to market them to the masses, or else ignorance and confusion will reign among potential buyers.