Just hours after Panasonic accidentally leaked the news ahead of the HDMI Licensing group's official announcement, the group has formally unveiled the new HDMI 2.0 standard that's so vital for the future of 4K TV.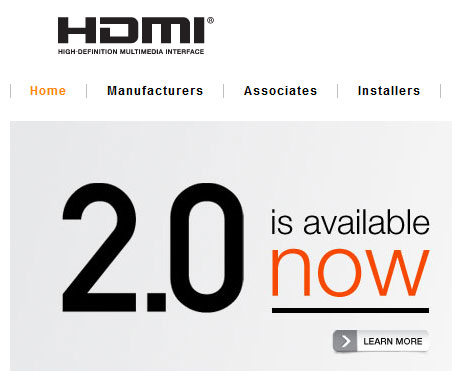 As we predicted yesterday on HDTVTest, HDMI 2.0 has arrived just in time, ahead of a much wider roll-out of next-generation 4K TVs expected in the coming days and weeks, bringing with it support for 4K at higher frame rates like 60fps and 50fps, as well as a few other key capabilities. HDMI 2.0 officially comes with a maximum bandwidth capacity of 18Gbps, giving it plenty of scope to carry Ultra HD, 3,840 x 2,160 resolution video. In addition, the new connector will be able to support 32 audio channels, a feature called "dynamic auto lip-sync", and some extra CEC extensions thrown in for good measure.
The design of the connector itself remains unchanged, which means that backwards compatibility with older hardware won't be a problem, even if it may disappoint those who were hoping for a somewhat sturdier design to support multiple dongles. There'll be no new cables either, as the HDMI Licensing group insists that today's Category 2 wires are more than capable of handling the extra bandwidth. Already a few manufacturers have suggested upgrade plans for their existing 4K TVs, and we're expecting to learn more about this as IFA 2013 unfolds this week.
Sony's Robert Blanchard, who is also president of the HDMI forum, stated that HDMI 2.0 was a major milestone for the industry:
"HDMI 2.0 is the result of close collaboration between our members to bring the successful HDMI specifications up to the next level, bringing the expanded video and audio features necessary for modern consumer electronics."
Full specifications for HDMI 2.0 can be seen on the HDMI Adopter Extranet. Later this week, the HDMI Licensing group is planning to host a further press conference during which it will discuss HDMI 2.0's new features in greater depth, giving us the full low-down on what the new standard means.
Source: HDMI Licensing Group