Although HDR (high dynamic range) is probably the most exciting aspect within the next phase of ultra high-definition (UHD) evolution, there's no established standard for this format yet, with at least five different groups working on their own flavour of HDR specifications. In terms of high dynamic range playback however, Philips – one of the earliest HDR proponents among TV brands – has revealed that an update to the HDMI 2.0 standard will be required for 4K TVs to receive and display HDR-mastered content.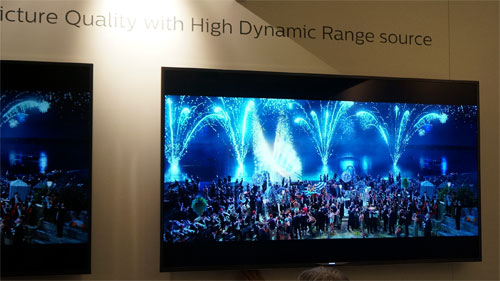 This piece of information surfaced during an interesting workshop hosted by TP Vision's TV guru Danny Tack, as the company officially unveiled its television lineup for the first half of 2015 at a launch event in Barcelona this week. When detailing the sources used in a HDR vs non-HDR demo, he stated that an upgrade to HDMI 2.0 will be needed for high dynamic range support.
Using the term "HDMI 2.0a" to describe the yet-to-be-released spec, Tack explained that a new HDMI version is necessary for the detection of HDR metadata flags that's embedded in the video stream, allowing for proper display of HDR-treated material. As long as the display is HDR-capable, he said that the upgrade can be done by a software/ firmware update rather than a hardware overhaul.
It's important not to confuse HDMI 2.0a with "HDMI 2.0 Level a" which has been used by technical publications including ourselves to refer to the full-fat HDMI 2.0 chip with 18Gbps throughput capable of handling 3840×2160@60Hz/50Hz 4:4:4 resolution. Certain 4K devices can only support a maximum chroma of 8-bit 4:2:0 at 4Kp60/ 4Kp50 resolution – these are rated as "HDMI 2.0 Level b".
Back to TP Vision's HDR versus non-HDR side-by-side comparison carried out on two Philips 4K Ultra HD televisions (both set to [Movie] mode), the HDR version certainly impressed, exhibiting greater punchiness in several snippets of Oblivion, and less highlight detail clipping in The Great Gatsby. With the European TV brand hinting at the release of a direct LED full-array local dimming (FALD) flagship 9000 series at IFA 2015 in September, we're expecting great things from TP Vision/ Philips this year, having walked away excited by demonstrations of the company's legendary picture processing, new Ambilight presets, and the introduction of Android 5.0 (Lollipop) Smart TV platform.