Satellite broadcaster SES teamed up with electronics giant Samsung earlier this month to carry out what the two companies claim is the world's first DVB transmission of High Dynamic Range (HDR) ultra high-definition television. The demonstration took place at the SES Industry Days conference in Luxembourg on the 7th of May, and saw BBC R&D's Hybrid Gamma technology being used to successfully beam the content from an SES ASTRA satellite to a Samsung SUHD TV.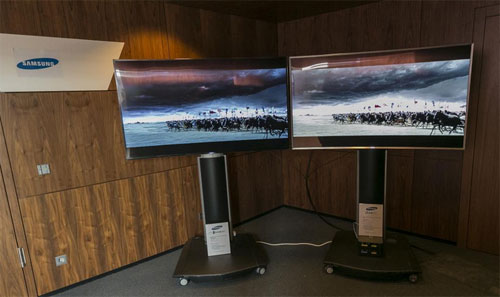 The two firms said the demo is a major milestone in the race to find a reliable way to broadcast 4K Ultra HD content. Thomas Wrede, Vice President, Reception Systems at SES, said the test shows how its possible to deliver High Dynamic Range ultra high-definition (UHD) TV Services over DVB Broadcast Networks, while still maintaining a high quality UHD TV Service to existing UHD Phase 1 Receivers.
"High Dynamic Range (HDR) will significantly enhance how consumers will experience television in the future," enthused Wrede in a canned statement.
John Adam, head of business development and industrial affairs at Samsung Research UK, concurred, saying the test was a complete success.
"Samsung is delighted to participate in this demonstration of a monumental step forward for the broadcast industry," he said, adding that it was important to move forward as quickly as possible to address the growing market for UHD Phase 1 TVs.
"Samsung is ready to fully endorse the BBC Research & Development's HDR technology as part of our overall drive towards the best consumer experience in UHD TV," Adam said.
While there are other competing HDR standards, the Hybrid Gamma (HDR) technology from the BBC's research and development arm allows for simultaneous delivery of Standard Dynamic Range (SDR) to non-HDR-capable 4K televisions, and High Dynamic Range to HDR-capable Ultra HD TVs from the same content payload.
Although the dream of 4K UHD broadcasting moves one step closer to reality, the TV industry continues to push forward with its technological advancements. At CES 2015 last January, both Samsung and its cross-town arch-rival LG Electronics showcased their first ever 8K TVs, which will likely present broadcasters with a brand new headache once they finally figure out a way to deliver 4K to everyone's homes.
Source: SES