Ahead of the IFA 2017 consumer electronics trade show which will kick off in Berlin later this week, 20th Century Fox, Panasonic and Samsung have announced a partnership for an open HDR (high dynamic range) standard with dynamic metadata called HDR10+. The technology will be royalty-free, and can be licensed by content creators, SoC (system-on-chip) vendors, as well as hardware manufacturers of 4K TVs, Ultra HD Blu-ray players/ recorders and UHD set-top boxes for a nominal administrative fee.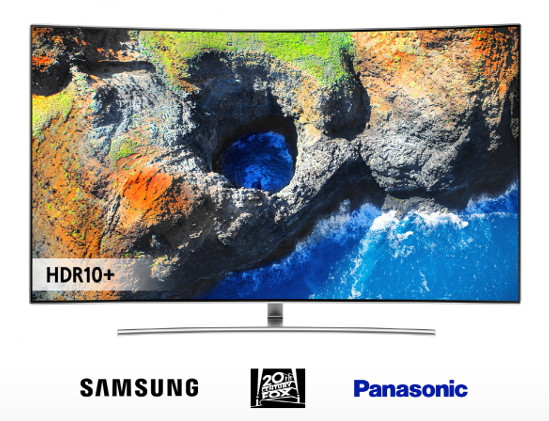 This not unexpected partnership is clearly a move to rival the competing Dolby Vision (DV) format that also boasts dynamic metadata (albeit proprietary rather than royalty-free) with scene-by-scene or even frame-by-frame optimisation to better reproduce the filmmakers' creative intent. DV so far has LG Electronics, Loewe, Sony, TCL and Vizio on board.
The majority of HDR material available to consumers on the market today use the HDR10 open standard which is based upon static metadata that remains constant throughout playback, so some scenes (for example dark sequences in an overall bright movie) may not be presented in an optimal manner. Dynamic metadata formats such as Dolby Vision and HDR10 Plus rectify this problem by providing contrast and brightness information on a scene-by-scene or even frame-by-frame basis, allowing compatible HDR displays and source players to optimise their video output and deliver pictures that come closer to the director's intent.
Samsung first proposed the HDR10+ standard earlier this year at CES 2017, which is supported by the South Korean brand's entire 2017 UHD TV lineup including its QLED TVs out of the box. The Amazon Video streaming service was unveiled back in April 2017 as the first content provider to support HDR10 Plus, and now 20th Century Fox and Panasonic – two companies that have so far been resistant to Dolby Vision – have put their weight behind this dynamic metadata open standard.
There remain many questions, such as whether there are any plans to release disc-based HDR10+ 4K Blu-rays, or which Panasonic 4K TVs/ UHD Blu-ray players can be firmware-updated to support HDR10 Plus. We hope to find out some answers when we speak to the relevant spokespersons at Panasonic's and Samsung's IFA booths later this week.
Source: Panasonic and Samsung via FlatpanelsHD.com