Hisense may be a relative newcomer to the UK television market, but it's a 800-pound gorilla in its native country of China where it's the market leader. In addition to acquiring Sharp's TV operations in the USA, the Chinese behemoth is also turning its ULED beam to the United Kingdom and Europe in an attempt to prise market share from more established Korean and Japanese TV brands.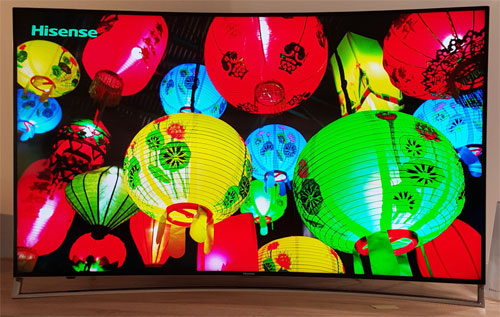 Key to Hisense's efforts is ULED, the company's branding moniker for its own flavour of quantum-dot-based LED LCD lineup which is spearheaded by the flagship XT910 series. We briefly checked out at the 65-inch 65XT910 at Hisense's booth at IFA 2015, and the specs certainly looked impressive. In fact, the firm was even bold enough to set up a public side-by-side comparison against its own OLED display solution (now shelved).
The design is curved, but the feature that'll immediately appeal to video enthusiasts is the inclusion of direct LED backlighting with full-array local dimming (FALD), the backlight technology of choice for LED-lit LCDs if you want the deepest blacks and the brightest whites. There are purportedly 240 independently dimmable zones, which is significantly more than Samsung's UE65JS9500 SUHD TV. Indeed, the Hisense XT910's static contrast ratio is rated at 7000:1 which, if true, gives us an outstanding black level of 0.017 cd/m2 with peak white pegged at 120 cd/m2.
And the Hisense 65XT910 is no slouch at the other end of the contrast ratio spectrum either, boasting a peak brightness of 900 nits, making it as suitable for HDR (high dynamic range) content as any other television on the market. We were also intrigued to see the presence of 120Hz backlight scanning among the specification list. For the uninitiated, backlight scanning/ black frame insertion is our favourite anti-motion-blur technology on LCD displays due to the absence of interpolation artefacts and soap opera effect (SOE).

It's currently unconfirmed whether the XT910 ULED series will be released on these shores, but having spoken to Hisense's executives at IFA, they are hopeful of a UK launch by the end of this year at a price that's significantly more affordable than the competition. Colour us interested…