Love it or hate it, you can't escape the fact that the curve design is making waves amongst the top-tier televisions of today. If you own a curved display and are having trouble accepting your straight soundbar lurking beneath, this one might be for you – enter the Samsung HW-J7501 curved soundbar. With 8 speakers (each with its own dedicated amplifier), new Clear Voice Technology for improved dialogue, and the promise of better-than-CD playback, it seems that the South Korean manufacturer is hell-bent on spoiling us. Oh, and did we mention the new-look subwoofer? With all these new features, let's see if the J7501 can deliver what sounds (pun intended) very impressive on paper.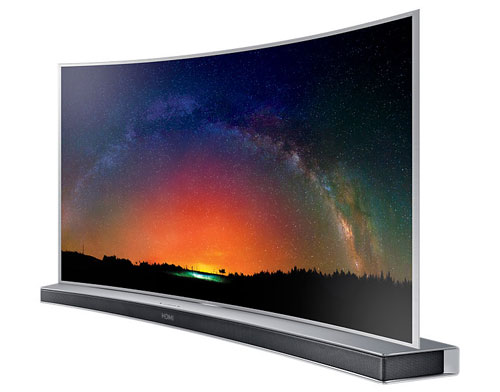 Note: While we only tested the HW-J7501-XU which is the British silver version, the soundbar is also available in black under the model number HW-J7500. We don't expect any difference in terms of audio performance between the HWJ7500 and HWJ7501.
Design & Connections
Once again Samsung has served up another very attractive and stylish-looking soundbar that's really designed to go with their curved UHD (ultra high-definition) TVs. In fact, this particular model is recommended for the company's JS9000 and JS9500 SUHD televisions (both of which carry a silver finish), since it can be attached beneath the panel for wall-mounting, or used together with the TV stand.
Spanning almost 4 feet across and looking like a part from an aircraft, we couldn't help but be impressed with the appearance and build quality of the HW-J7501. The 8 speakers are encased in a brushed metal and plastic casing, with a solid feel to the whole unit. The mirror panels that grace the sides of previous Samsung soundbars are gone, giving way to additional speakers at either end to further enhance the surround experience. On top of the soundbar in the middle you have power, source, and volume buttons. To the rear of the unit you have a USB port, DC input, and pairing buttons for WiFi and speaking pairing. Underneath you have a recess with access to various other interconnects including AUX in, LAN, HDMI in, HDMI (TV ARC) and Optical in. We were hoping to see an additional HDMI input but unfortunately we only have the one.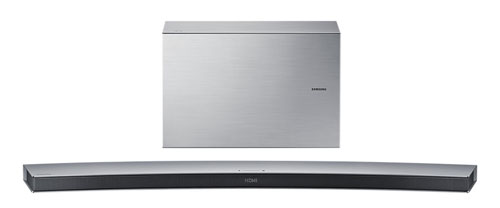 The HW-J7501/ HW-J7500 comes with a new rectangular subwoofer, departing from the square sub shipped with previous models. Why the company changed the design is unclear, but we have encountered some issues with previous subwoofers' plastic casing rattling, so hopefully the new design might eliminate that minor issue. Upon closer inspection, it's still encased in plastic, and the driver has shrunk from 8 inches to 7, so the proof will be in the listening with this one. Subwoofers are never attractive to look at, hence a lot of people hide them in corners or behind sofas, but as silver rectangle subs go, this one is very stylish.
Features & Set-Up
With a total output of 320w and 8 amplifiers driving each speaker, the Samsung HWJ7501 should pack enough volume to satisfy most AV enthusiasts (and annoy most neighbours). If that isn't enough, you can wirelessly attach more speakers to create a true 4.1 surround experience, or link more speakers for multiroom listening. There's also a new Clear Voice Technology and High definition Audio playback feature, which we'll look at closer later in this article. The HW-J7501 includes various sound presets including Standard (original sound) Music, Voice, Sports, Cinema, and Night Mode. The Samsung supports Dolby Digital and DTS and will decode AAC, WAV, OGG, MP3, WMA, and FLAC.
Set-up (as with all Samsung soundbars we've reviewed) is straight forward. Samsung's TV SoundConnect is the easiest way if you have a TV from the Korean brand, but for us it was just a case of connecting our Blu-ray player to the HW-J7501, and then using the HDMI ARC out to our display. As we said before, it would be nice to have an additional HDMI input, but it's not a big deal as everything else can be connected to our display and we can send the audio via the ARC to the soundbar. The subwoofer connected seamlessly as soon as it was switched on, but in the rare case it doesn't, it can be reset manually. For the record with every Samsung soundbar we have tested, not once have we had to do this.
Sound Quality
We couldn't wait to put the Samsung J7501 through its paces especially with the new-look sub. We went straight to work with some familiar Blu-rays, and picked the 2005 version of War Of The Worlds for our test. It's not the greatest film, but has a stellar reference soundtrack – in particular its destructive LFE bass in chapter 5 and 6, when the aliens make their presence known. We're pleased to report that the Samsung handled this scene like a pro. This really is a test for a subwoofer, and the newly redesigned sub's handling of this scene was impressive to say the least: its 7-inch driver went low and deep without a hint of distortion or breaking up. Gone too was any evidence of rattle that plagued the previous model.
There's a separate volume control for the sub which goes from -12 to +6. For our placement and room, -2 was perfect for the soundbar and sub to integrate seamlessly. The soundbar itself was no slough either, offering up a wide dynamic soundstage with plenty of detail and dynamics. Before we received the specification sheet for the HWJ7501 we noticed that dialogue, as clear as it was, came across a little heavy in the mix. We then read the spec to see that Samsung has implemented a feature called Clear Voice Technology to enhance speech above background noise. We aren't sure what the firm has done to achieve this, but you can definitely tell that the dialogue can sometimes be too front-heavy with certain soundtracks. It's a minor niggle, but one that should be mentioned.
We experimented with the Samsung HW-J7501's sound effect presets which include Standard, Music, Voice, Sports, Cinema, and a night mode. It's safe to say that the curved soundbar delivered the best and most natural audio in Standard mode without any additional processing. The Cinema mode sounded particularly processed, with the dialogue again being too front-heavy and the whole soundstage sounding a bit brittle. We also tried the surround mode, which if anything just gave a volume spike and didn't really offer any additional surround effects.
Another strange thing we found on our review sample was that regardless of what sound effect mode you were in when you switched the surround mode on, it defaulted back to standard mode. For example, if you were in Cinema and activated the surround feature it would work – not in Cinema, but default back to Standard. We preferred to listen in Standard mode anyway, so this wasn't an issue for us. Have a play around with the presets by all means, but to get the best out of the J7501/ J7500 we strongly recommend just leaving it in Standard without the surround feature engaged. TV sources sounded just as good through the Samsung HWJ7501. We watched the season finale of The Walking Dead, and the soundbar did an impressive job of immersing you in the soundtrack with a compelling and accurate reproduction of the given source material.
As we're writing this review, we're streaming Spotify from our smartphone via Bluetooth, and it sounded equally as impressive as the handling of movie playback. We pushed the HW-J7501 hard with Blu-ray and TV playback with the volume going as high as 40 (the max is 50), whereas here we're listening at 10 and the sound remained incredibly balanced and full, even at low volume. The first thing to go on low volume is bass, but the Samsung's sub was still very present in the mix with a nice low end. James Bay's debut album sounded particularly impressive with his smoky vocals coming through crisp and clear, with a strong sense of presence across the listening stage.
Continuing with music playback, another new feature with music is what Samsung are calling their High Definition playback, with the promise that your MP3 playback will have studio quality and sound even better than CDs! We tested this out by cueing up an MP3, with the same song on CD, playing them back at the same time to see if in fact the mp3 sounded better with this new feature. Listening to John Lennon's Imagine and flicking between the two sources, the CD was clearly better. Volume levels were about the same but the CD still sounded better with clearer dynamics and a fuller presence. That aside, whether you're listening to a CD/ MP3 or streaming your music, the Samsung HWJ7501 still sounded excellent with music playback.
Conclusion
In terms of sound quality, the Samsung HW-J7501 soundbar is the best we've tested yet from the Korean consumer electronics giant. Other than dialogue sometimes being a tad front-heavy, it's hard to fault its sound quality. What really sets this device apart is the performance of the new-look sub, which easily reproduces accurate bass response at high as well as low volumes regardless of the playback source. Ok, we're not convinced about the better-than-CD claim, and yes, the dialogue can be too focused, but these don't take away from the rest of its acoustic performance.
If you have a curved Samsung display or any other TV maker's curved screen, this is the soundbar to get. If you don't own a curved display and you can live with a curved soundbar under your flat-screen television, it's still well worth an audition. At a street price of £749 it's not cheap, but you do get what you pay for: the HW-J7501 is an excellent all-round performer, producing better overall audio quality than any other Samsung soundbar we've reviewed to date.