According to the most recent Quarterly TV Design and Features Report published by market research firm DisplaySearch, the proportion of flat-panel televisions that are internet-connected is set to almost double in worldwide shipments between now and 2015. The data shows that over 25% of all flat-screen TVs that are shipped this year will have some type of internet connectivity. However, by 2015 this percentage is expected to increase to 47%, equating to around 138 million units.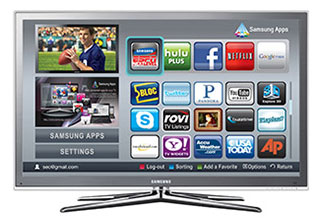 Paul Gray, TV electronics research director at DisplaySearch, said that it's not only developed regions that are eager to enjoy advanced technology such as web connection capability. He stated that many emerging markets actually have very good broadband internet services, and are keen to enjoy high quality online content. The figures also forecast that by the end of 2015 more than 500 million units of connected televisions will have been shipped globally.
In addition, the study highlighted a definite benefit for consumers who choose to buy LED-backlit LCD TVs in the current market. LED TV models typically consume less power than their CCFL (cold-cathode fluorescent lamp) counterparts and plasma televisions, and can therefore save owners money given the high cost of energy and tighter energy regulations nowadays. In fact, analysts expressed their surprise at the fact that TV manufacturers did not seem to be using the energy-saving feature of LED-backlit HDTV displays as part of their marketing campaigns to attract those who were looking to replace their TVs.
The data revealed that the payback time in California for an entry level LED-backlit LCD TV is under four years, and in Europe it is under two years. Paul Gray said that consumers are acutely aware of matters relating to fuel consumption of their vehicles, and it's very likely that they are equally interested when it comes to matters such as the power consumption of their TVs and other electrical items in the home.