Sales of television displays featuring internet connectivity will experience a compound annual growth rate of 30% to reach 123 million units shipped worldwide by the year 2014, market research and consulting firm DisplaySearch has boldly predicted. This suggests that along with 3D TV models, internet-connected TVs should account for some of the best-selling HDTVs for the next few years to come.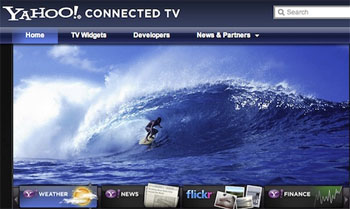 Every three months, the California-based company issues a Quarterly TV Design and Features Report that examines the constantly evolving developments of various technologies on new HDTV sets. Last year, internet-enabled TV (IETV) models constituted almost one-fifth of all televisions shipped globally, and the figure is due to rise rapidly over the next three years if DisplaySearch's latest data is to be believed.
Even though web connectivity is the logical next step following the advent of digital TV broadcasting, the rise in the popularity of internet-connected televisions is not only limited to developed regions such as Western Europe and Japan. DisplaySearch claims that emerging markets – some of which already boast high-quality broadband internet infrastructure – will also make a significant contribution to the growth in IETV shipments. Eastern European countries are expected to see a sharp increase in shipments of IETVs from 2.5 million units in 2010 to more than 10 million units in 2014, while one-third of the flat-screen television sets sold in China will be equipped with internet connectivity by 2013.
Dissecting the internet TV platforms offered by different HDTV manufacturers even further, DisplaySearch found that the web capabilities on these internet-enabled TVs ranged from basic connectivity (for example catch-up TV, video-on-demand and other enhanced broadcast services) to more sophisticated "Smart TV" interface which can be personalised with downloadable apps as well as advanced search and navigational functionalities. Connected TV strategies also varied from brand to brand, with some opting for a cloud-based service, and others going for a device-centric implementation.