Although we mainly review televisions, more and more consumers are using tablet PCs such as the Apple iPad to watch movies and view photos, so we thought we'd extend our expertise on video displays to these smaller devices. And to kick things off, we've conducted a head-to-head shootout between two of the most popular tablets under 8 inches which seems to be the hottest area of competition at this time of writing.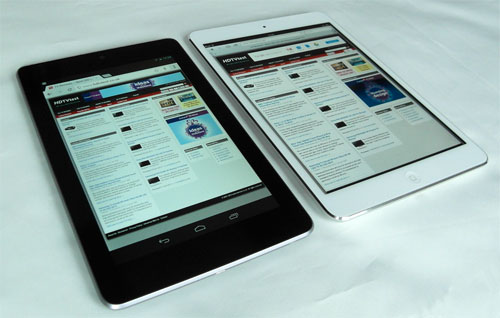 iPad Mini vs Nexus 7 screen comparison
The Android-based Google Nexus 7 manufactured by Asus first took this market by storm when launched back in summer this year, generously offering a 7-inch display with a native screen resolution of 1280×800 pixels, a quad-core Tegra 3 processor and 1Gb of RAM, not to mention prices starting from a ridiculously affordable £159 which is more commonly associated with unbranded tablets from East Asia. Its popularity prompted the 600-pound gorilla that is Apple to join in the act, releasing the 7.9-inch iPad Mini which went on sale earlier this month.
Many other established tech websites have published detailed comparisons between the iPad Mini and the Nexus 7, covering aspects from design and form factor to performance and connectivity, but our shootout is only concerned with their screen quality for the purpose of viewing movies and photos, as well as reading text. May the best tablet win!
Apple iPad Mini
Note: The sample we used in our shootout was the 16Gb white WiFi-only model, which costs £269. Its iOS software was updated to 6.0.1 (the latest version at press time) before we started testing the tablet.
Black Level/ Contrast
We began proceedings by measuring the black level and peak luminance on various brightness settings with [Auto Brightness] disabled:
| | | | |
| --- | --- | --- | --- |
| Brightness Setting | Black Level (cd/m2) | Peak Luminance (cd/m2) | Contrast Ratio |
| 0% | 0.014 | 11.383 | 807:1 |
| 40% | 0.147 | 120.17 | 817:1 |
| 50% | 0.177 | 145.12 | 820:1 |
| 100% | 0.485 | 395.19 | 815:1 |
Contrast ratio on the iPad Mini comfortably exceeded 800:1 regardless of brightness setting, which is par for the course for an IPS LCD panel. The optimal setting required to achieve 120 cd/m2 (our target white output for critical viewing in a dimly-lit room) was around 40% of the brightness slider bar, although you'll obviously need to set this higher when using the tablet in a brighter environment to overcome ambient light. The iPad Mini can go as bright as 395 cd/m2 for this purpose.
Greyscale
With its [Brightness] set at 40% so that peak white output is pegged at 120 cd/m2, we went about measuring greyscale, gamma and colour on the iPad Mini, just like what we usually do in our HDTV reviews: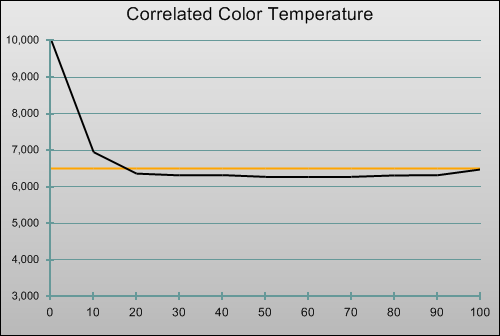 Correlated colour temperature (CCT) at 40% brightness setting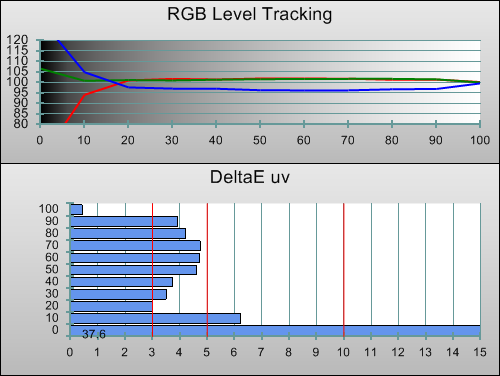 RGB tracking & delta errors (dEs) at 40% brightness setting
Overall, blue channel was a touch too low, causing shades of grey to appear mildly red-tinted. That said, delta errors (dEs) were below 5 from 20% stimulus – this is very good going for a consumer-grade device whose screen cannot be user-calibrated.
Gamma
| | |
| --- | --- |
| | |
| Gamma curve at 40% brightness | Corresponding gamma tracking |
The Apple mini tablet's performance in this area was exemplary: gamma tracked very closely to the sRGB standard of 2.2 across the entire luminance range. While we normally aim for a gamma target of 2.4 in our TV calibrations, 2.2 is perfectly acceptable in this case, since the tablet is likely to be used in a variety of conditions with different ambient lighting (some where light control is simply not possible).
Colour
CIE chart with reference to HD Rec. 709/ sRGB standard
The iPad Mini's colour gamut was smaller compared to that stipulated by the Rec. 709/ sRGB standards, which means that in general, colours on the tablet would look globally muted and less vibrant than what they should actually be. Most users probably won't find this a problem, unless you're a professional photographer who needs to present your portfolio in an accurate manner, or a film lover who wants to watch movies the way they're intended to be watched.
Sharpness/ Resolution
Much has been made about the absence of Retina Display on the iPad Mini which only features a "lowly" native pixel resolution of 1024×768 on a 7.9-inch screen, amounting to a PPI (pixel-per-inch) figure of 163. In our experience, this only became an issue when reading small text characters, which can look fuzzy and jagged depending on how much they are scaled down, because there just aren't sufficient pixels to render the fonts smoothly.
Obviously, one can zoom in the page, enlarging the text to an extent that it appears sharp and smooth, but this involves an additional pinching motion, not to mention more scrolling (both vertical and horizontal) later on since the text no longer fits on one page.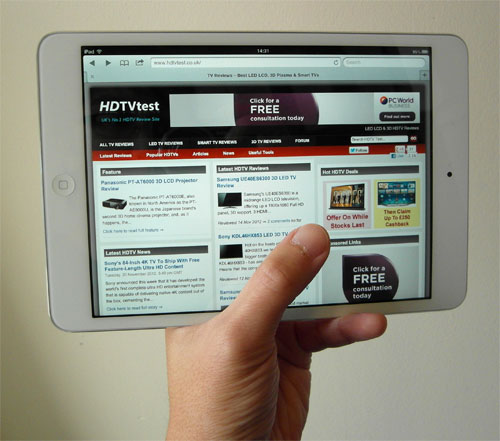 Our solution – if it can be called a solution – is to hold the iPad Mini in landscape mode, which is surprisingly easy to do with one hand given how light and thin the tablet is. This way, text characters are usually rendered crisply as a result of the increased width available (versus portrait mode); the whole page fits on the screen horizontally; and all you need to be concerned with is scrolling up and down, which, again, is easily manageable via the thumb of the same hand holding the mini slate.
Google Nexus 7
Note: Our test unit was the 16Gb WiFi-only version, which was updated to Android 4.2 Jelly Bean for the purpose of this shootout.
Black Level/ Contrast
We unchecked the [Automatic brightness] option, and recorded the following measurements on various brightness settings:
| | | | |
| --- | --- | --- | --- |
| Brightness Setting | Black Level (cd/m2) | Peak Luminance (cd/m2) | Contrast Ratio |
| 0% | 0.028 | 28.746 | 1039:1 |
| 25% | 0.114 | 123.36 | 1086:1 |
| 50% | 0.247 | 268.77 | 1086:1 |
| 100% | 0.348 | 371.57 | 1066:1 |
Contrast ratio was north of 1000:1 irrespective of what brightness setting was chosen, which is higher than that seen on the iPad Mini. It seems that Asus/ Google have implemented some very mild dynamic backlighting on the Nexus 7 to achieve this figure.
Greyscale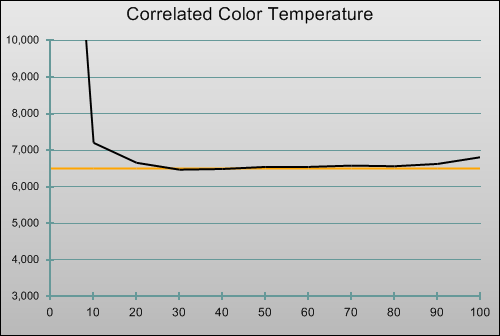 Correlated colour temperature (CCT) at 25% brightness setting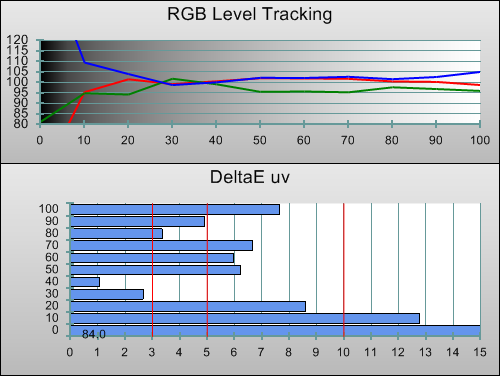 RGB tracking & delta errors (dEs) at 25% brightness setting
Again, for a consumer-level product, the Google Nexus 7 acquitted itself remarkably well in presenting a neutral shade of grey from the RGB mixture. On the whole, delta errors were a smidgen higher than those measured on the Apple iPad Mini, mostly due to a deficiency in green component, but at least correlated colour temperature tracked closely to the D6500K standard between 30% and 80% stimulus.
Gamma
| | |
| --- | --- |
| | |
| Gamma curve at 25% brightness | Corresponding gamma tracking |
This is where things went wrong on the Nexus 7. As you can see from the graphs above, gamma tracking on the tablet was severely skewed, progressively getting lower across the luminance range, eventually hitting 1.5 (!!!) around 90% stimulus.
What this means is that bright areas in images (including both photos and videos) will look much brighter than they should be, leading to blown highlights, dampened image contrast and muted colours. The whole appearance is akin to an overexposed photograph that simply looks unnatural and washed out.
Colour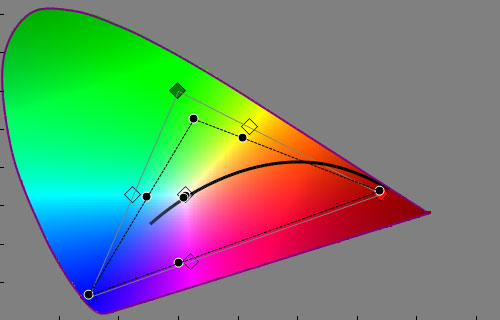 CIE chart with reference to HD Rec. 709/ sRGB standard
Our measurements revealed that the Nexus 7 featured a bigger colour gamut than the iPad Mini, though green primary as well as cyan and yellow secondaries remained undersaturated compared to reference targets. Given its larger gamut, Google's 7-inch slate should in theory be capable of displaying a greater range of colours than Apple's offering, but unfortunately in practice this advantage was nullified by the aforementioned skewed gamma. To our eyes, photographs and movies with high APL (Average Picture Level) actually looked less well-saturated on the Nexus 7, due to the overexposed, washed-out cast imparted upon the images.
Resolution/ Sharpness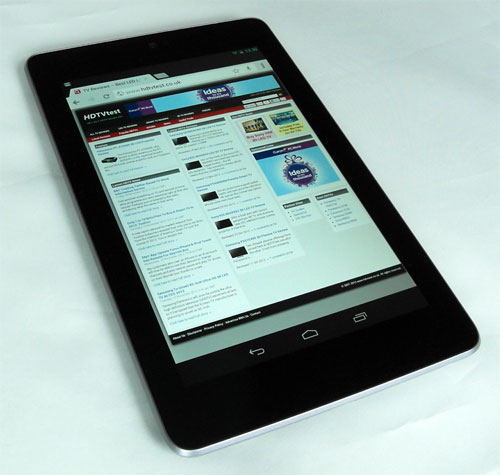 Asus managed to squeeze 1280×800 pixels into the 7-inch screen on the Nexus 7, contributing to a PPI of 216 which is around 32% higher than the iPad Mini's. The benefit of this increased resolution was most noticeable when trying to read small text in portrait mode: the Nexus 7 rendered the characters with smooth and sharp outlines; whereas they would appear fuzzier on the Apple. Switching to landscape mode cut down the difference in perceived sharpness between the two tablets, but we could still make out that the resolution was superior on the Nexus 7.
Conclusion
As much of a cliche as this may sound, each of these sub-8-inch tablets has its own strengths and weaknesses. Google's Nexus 7 excels at displaying small text with pin-sharp smoothness, thanks to its higher pixel resolution. It also boasts a larger colour gamut than the iPad Mini, although in this case that's no guarantee that images will look better-saturated.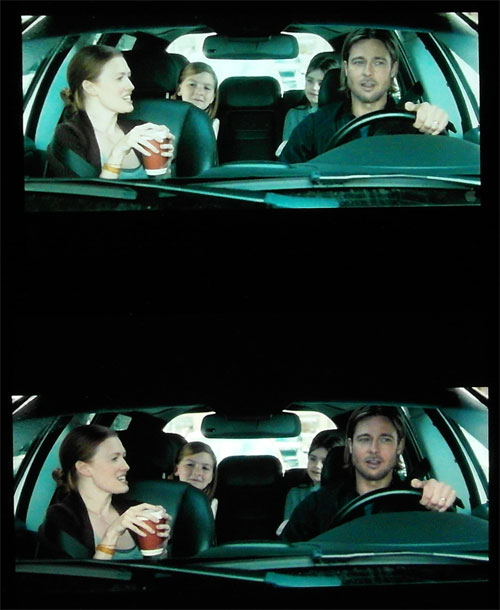 At the end of the day, an iPad Mini is £130 more expensive than a correspondingly-specced (16Gb, WiFi-only) Nexus 7, which may be a major sticking point for many people. Potential buyers will obviously need to consider many other aspects including operating software and apps ecosystem, but if like us, you're primarily concerned about getting the best picture quality when watching movies and videos, then Apple's mini-slate is the clear winner. Flat 2.2 gamma allows the iPad Mini to deliver natural, realistic pictures with first-rate image contrast, unlike the Nexus 7 whose images have a tendency to look washed out because of skewed mid-to-high-end gamma.