The popularity of the BBC's iPlayer service just keeps on growing, with the UK public service broadcaster reporting yet another record-breaking month as it crossed the 200-million-requests milestone for the first time.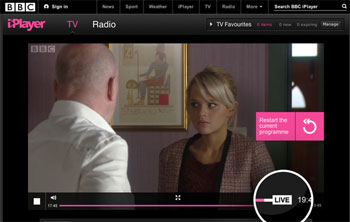 iPlayer usage up 25% on Smart TVs as BBC posts record-breaking stats
Writing on the BBC internet blog, BBC iPlayer's head Dave Price revealed that the month of October surpassed all expectations, with more than 213 million requests made for TV and radio content by users of the iPlayer. This number smashed the Beeb's previous record-breaking month during the summer Olympics, and represents an astonishing 20% growth in the number of requests across all platforms year-on-year.
The iPlayer's growing popularity might not come as a surprise, but what is interesting is how consumer's behavior is changing, with more and more users adopting internet-connected HDTVs as their preferred platform for viewing the service. According to Price, whilst PCs remain the most popular platform for iPlayer viewers, Smart TV is fast catching up, with usage rising by an astonishing 25% over the last month. In addition, the use of mobile devices like tablets and smartphones to view the iPlayer is also increasing fairly steadily.
More than 43 million TV programmes were requested by Smart TVs, games consoles and operator platforms in October, equating to 20% of all iPlayer requests in October. Elsewhere, smartphones accounted for 28 million requests, and tablets some 21 million, representing 12-month increases of an astonishing 168% and 236% respectively.
The rise in Smart TV and mobile device usage demonstrates that the BBC's strategy of making its iPlayer content available across a wealth of platforms – not just PCs – is beginning to pay-off, no doubt helped by the widespread penetration of connected devices amongst the British public.
Central to all of this is the organisation's determination to make its content more accessible than ever before, bringing viewers their favorite programmes whenever they want, wherever they might be. This is evidenced by the fact that the iPlayer is now available on a staggering 650 devices, including the Microsoft Xbox 360 and Sky+HD, both of which were released earlier this year.
However, the BBC points out that while mobile devices and consoles have a big role to play in the future, connected televisions are likely to become the platform of choice for the vast majority of viewers in the coming months – hardly surprising given that the very British tradition of sitting down together as a family and watching our favourite shows on the biggest screen in the house remains a very strong one.
Further evidence of this comes from a recent YouGov survey, which shows that the number of consumers looking to buy Smart televisions is also increasing – even in spite of the recession. What with viewers growing more and more accustomed to the benefits of catch-up TV, it's a sure bet that this trend will continue to gather pace.
Source: BBC internet blog