The massive earthquake and ensuing tsunami which consumed north-east Japan on Friday afternoon has hit the country hard, prompting Prime Minister Naoto Kan to declare the natural disaster – which has thus far claimed thousands of lives with many more missing – as the largest crisis the Land of the Rising Sun has faced since World War 2 (WW2). While the majority of Japanese consumer electronics (CE) manufacturers did not report serious damage from direct impact, some have had to temporarily suspend operations due to widespread disruptions to power source, transport infrastructure, and component supply chain.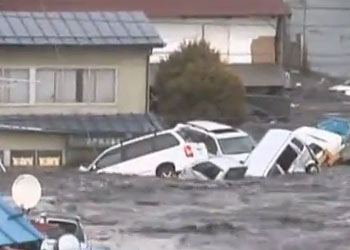 Sony Corporation has halted production at eight electronics plants in the Fukushima and Miyagi prefectures (including a Blu-ray factory which was flooded, stranding over one thousand workers who were forced to seek refuge on higher ground). The company said that all its employees have been safely evacuated, and that it will carry out damage assessments once the aftershocks have subsided.
Panasonic revealed that falling building structures have caused minor injuries to several workers at its factories located in the Miyagi and Fukushima prefectures. The manufacturer also said that continuing aftershocks were preventing it from conducting inspections at these plants – which mainly dealt with digital cameras, audio equipments and electronic parts – to accurately evaluate the scale of damage.
Toshiba has shut down operations at its semiconductor plant in the northern prefecture of Iwate. Sharp's Sakai plant, the only tenth-generation (G10) LCD TV panel factory in the world, is thought not to be directly affected by the earthquake and tsunami due to its remote location to the worst point of impact.
Last year, Japan made up 14% of the global LCD television panel production, although in recent times HDTV makers like Sony have outsourced a significant portion of LCD panel assembly to foreign (e.g. Taiwanese) vendors. Perhaps more crucial is the impact of the disaster on the production of LCD-related components, as the country accounts for a substantial share in the worldwide manufacturing of colour filters, glass substrates, polarizers, cold-cathode fluorescent lamps (CCFLs) and light-emitting diodes (LEDs) used in LCD panels and products.